Binge Drinking May Encourage Infection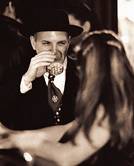 MONDAY, Sept. 21 -- Binge drinking can weaken the body's ability to fight infections for at least 24 hours, say researchers.
Binge drinking is defined as consuming large amounts of alcohol over a short period of time to deliberately get drunk.
In experiments with mice, the researchers found that binge drinking affects toll-like receptor 4 (TLR4), a protein that plays an important role in immune system activation. Specifically, heavy drinking suppresses TLR4's ability to send signals that activate production of inflammatory cytokines -- signaling molecules that begin the inflammatory response to infection.
The researchers also determined that binge drinking inhibits NF-B, a protein complex that controls DNA transcription and expression of some of the cytokines inhibited by alcohol.
"The time frame [after binge drinking] during which the risk of infection is increased might be at least 24 hours," study author Stephen Pruett, of the College of Veterinary Medicine at Mississippi State University, said in a news release. "A persistent effect of ethanol on cells is indicated, such that inhibition of the response of some cytokines occurs even after the ethanol is cleared" from the body.
The study was published Sept. 17 in the journal BMC Immunology.
More information
The U.S. Centers for Disease Control and Prevention has more about alcohol and health.
© 2018 HealthDay. All rights reserved.
Posted: September 2009