Best Option for Fractured Nose Varies by Patient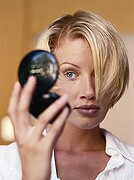 MONDAY, Sept. 21 -- Successful repair of nasal fractures is possible using either minimally invasive or traditional open surgery methods, as long as the procedure is appropriate for the type of fracture, researchers say.
The proper method may be selected by taking into account factors such as fracture type and degree of septal deviation (displacement of the bone and cartilage separating the nostrils), according to Dr. Michael P. Ondik and colleagues at Penn State Hershey Medical Center.
The treatment of nasal fractures is a controversial topic. Some surgeons recommend no intervention, some prefer closed reduction (minimally invasive repair), and others favor extensive open surgery, according to background information in a news release about the study.
"Closed reduction is a relatively simple procedure, at times producing acceptable outcomes. However, advocates of open reduction purport better cosmetic results and a high likelihood that closed reductions will eventually need a second operation using an open reduction technique," the researchers wrote.
"Deciding which technique to use for a given nasal fracture can be challenging. Not all fractures can be treated using closed techniques and, conversely, not all fractures require the time and expense of an open reduction," the study authors noted.
In this study, Ondik and his team looked at data from 86 patients treated for nasal fractures between 1997 and 2007. Of those, 41 had closed reduction and 45 had open surgery.
"There was no statistical difference in revision rate, patient satisfaction or surgeon photographic evaluation scores between the closed and open treatment groups when fractures were treated in the recommended fashion," the researchers found.
Use of a treatment algorithm -- a type of classification system -- can help surgeons determine the best method of treatment for each individual fracture, they added.
The study appears in the September/October issue of the journal Archives of Facial Plastic Surgery.
More information
The American Academy of Otolaryngology -- Head and Neck Surgery has more about nasal fracture.
©2017 HealthDay.
All rights reserved.
Posted: September 2009
Recommended for you