Automated Calls May Help Doctors Monitor Patients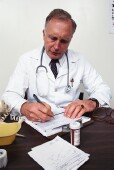 TUESDAY, April 28 -- An interactive voice system makes it easier for medical staff to monitor patients who are taking warfarin or other blood thinners, a Canadian study reports.
People taking anticoagulants must be closely watched to prevent serious side effects such as blood clots and hemorrhage, which can be fatal. But, this type of monitoring is labor intensive, according to background information in the study.
The research involved 226 people who spoke English, did not have hearing problems and had stable anticoagulation control. About 80 percent had been taking warfarin for more than a year.
They were given instructions about their medication -- including dosage messages, appointment reminders and notices about missed appointments -- using an interactive voice system. Medical staff members reviewed daily Web reports of the automated calls and contacted individual patients when dosage messages were unsuccessful.
"The interactive voice response system was effective in communicating complex information, as 77.8 percent of messages were successfully delivered and did not require input from staff," wrote Dr. Alan Forster and his colleagues from the Ottawa Hospital Research Institute and the University of Ottawa. "Importantly, the interactive voice response system reduced the workload of clinic staff by 33 percent."
The study was published in the Canadian Medical Association Journal.
The findings lay the foundation for more information technology-based methods of oral anticoagulant management, Dr. Jerry Gurwitz, of the University of Massachusetts Medical School, wrote in an accompanying commentary. Gurwitz said that "any technology-based intervention that could improve the quality and efficiency of anticoagulation care, while reducing costs, would be extremely attractive."
© 2018 HealthDay. All rights reserved.
Posted: April 2009