Use of Asthma Controller Meds on the Rise Among U.S. Kids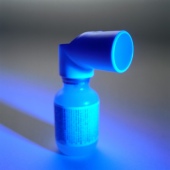 THURSDAY, Oct. 13 -- The percentage of children with asthma in the United States who use a prescription "controller" medicine has nearly doubled since the late 1990s, a new federal government report finds.
The analysis of data from the Medical Expenditure Panel Survey showed that the use of controller drugs by these children increased from 29 percent in 1997-1998 to 58 percent in 2007-2008, according to the latest News and Numbers from the U.S. Agency for Healthcare Research and Quality.
Asthma controller drugs include: corticosteroids, which control inflammation and reduce the risk of airway spasms; beta-2-agonists, which make breathing easier; and leukotrienes, which help prevent asthma symptoms from occurring.
Use of inhaled corticosteroids among American children with asthma increased from 15.5 percent to 40 percent, use of leukotrienes rose from 3 percent to 34 percent, and use of beta agonists rose from 3 percent to 13 percent, according to the report.
During the same period, the use of reliever and oral corticosteroid drugs fell from 44 percent to 30 percent and from 17 percent to 9 percent, respectively, the investigators noted in an agency news release.
Average annual total spending for all asthma drugs more than quadrupled, from $527 million in 1997-1998 to $2.5 billion in 2007-2008. When broken down by category, spending for controller drugs rose from $280 million to $2.1 billion, spending for reliever drugs increased from $222 million to $352 million, and spending for oral corticosteroids fell from $25 million to $8 million, the findings revealed.
More information
The American Lung Association has more about children and asthma.
© 2018 HealthDay. All rights reserved.
Posted: October 2011