Armstrong Confession Validates His Use of Performance-Enhancing Drugs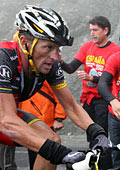 THURSDAY, Jan. 17 -- For over a decade, world-renowned cyclist Lance Armstrong has strongly denied use of performance-enhancing techniques to improve his athletic performance. Armstrong has now admitted in an interview with Oprah Winfrey that he used performance-enhancing drugs while conquering a record seven Tour de France championships. He said it was "not possible" to win without doping. Armstrong admitted to getting lost in the momentum of a perfect life -- beating cancer, having a wonderful family and winning the Tours. He said would do anything at all costs to win. And then, Armstrong apologized.
The confession, in a "no conditions" interview conducted by Winfrey appears to be the first step in Armstrong's hope to lessen his lifetime ban, regain his ability to compete, and soften the blows of a damaged reputation. Prior to taping the episode on Monday, Armstrong also made an emotional apology to employees at the Livestrong Foundation he created in his hometown of Austin, Texas.
In October 2012, the International Cycling Union (UCI) stripped Armstrong of his seven Tour de France titles won from 1999 to 2005. He also received a lifetime ban on any other elite sports after the release of the Reasoned Decision document by the U.S. Anti-Doping Agency (USADA). These allegations claimed the doping was orchestrated by Armstrong to "evade detection, to ensure its secrecy and ultimately gain an unfair competitive advantage through superior doping practices." During the interview, Armstrong noted he had access to the same doping practices everyone else did, and he did not force others to dope, contrary to reports from teammates.
The USADA document detailed sworn statements from 26 witnesses, including fellow cyclists with direct knowledge of doping activities within the US Postal Service (USPS) Team. Use of erythropoietin (EPO), corticosteroids, testosterone, and blood transfusions by the USPS team were detailed in the document. Armstrong refused to contest the USADA allegations that he utilized performance-enhancing drugs or was involved in doping, and denied the accusations.
As a result of the USADA document, Armstrong's cycling career was over, and ties were severed with both lucrative brand endorsements and Livestrong, the non-profit foundation he started in 1997 that has raised over $500 million in support of cancer research. He says that in hindsight, if he could go back to the USADA, he would not deny the charges. Armstrong now admits his cocktail of choice for boosting endurance was EPO, blood transfusions and testosterone. Going forward, he implies he will be the first in the door to help clean up the sport, although he admits his credibility is "lacking".
It is unlikely that Armstrong, 41, will receive any criminal charges for his illegal actions; however, rampant civil lawsuits may stem from previous team sponsors and teammates. Armstrong and his team also accepted tens of millions of dollars from major sponsors, including the USPS. He has accused his own USPS cycling teammates of lying, and even victimized them with legal action in an effort to protect his name. But sworn statements from his teammates and other witnesses claim Armstrong acted as the ringleader in a dangerous circle of doping practices to remain at the top of his sport, and forced others to join him or face team expulsion. Armstrong also denied these accusations, saying he did not force other cyclists to dope or be expelled from the team.
Is it realistic to think Lance Armstrong can return to world-level competitive sport? According to recent reports, Armstrong may have interests in competing in ironman triathlon events, an event he might be eligible for if his suspension was reduced. Armstrong competed in ironman events even before cycling, and has been recently training for them in Hawaii.
Armstrong's lifetime ban reduction would require at a minimum a full confession under oath to WADA officials -- not just viewers of primetime television. The confession would most likely require all of the details –- officials would want a blueprint of how the doping played out, the specifics of who was involved, and if any governing body aided him. Armstrong's admission to officials could reduce his lifetime ban on competition to eight years, or possibly even less, according recent World Anti-Doping Agency reports.
Will Armstrong testify against others who may have been involved with his doping schemes? Reports from The New York Times previously suggested that Armstrong might be willing to testify against officials from the International Cycling Union (UCI), the worldwide governing body of cycling who apparently knew about the doping practices. However, during the interview on Thursday Armstrong denied any links or payments to the UCI in a doping cover-up scheme.
In addition, reports have noted Armstrong may testify against USPS team owners in a federal whistle-blower case filed by former teammate Floyd Landis. Landis charged that the team defrauded the government by participating in doping practices, in direct violation of their $30 million USPS contract. According to Forbes, Armstrong and others implicated in the case could be liable for over $90 million.
In speaking with Winfrey, Armstrong calls himself both a "jerk" and a "humanitarian", and for good reason. If Armstrong were allowed back into the competitive arena, would the American public or any sponsors be willing to trust and support him? Without a doubt, other tainted U.S. athletes have fought their way back into the graces of the viewing public -- but this uphill battle seems exceedingly steep for even Lance Armstrong to climb. Can the Livestrong Foundation, a group that has greatly benefited the cancer community for over a decade, continue unscathed? Sponsors and the public may be able to see past Armstrong's wrongdoing in support of this important cause -- and, in the end, Livestrong may be the most important legacy that the humanitarian part of Lance Armstrong leaves behind.
Sources:
United States Anti-Doping Agency (USADA). U.S. Postal Service Pro Cycling Team Investigation. Statement from USADA CEO Travis T. Tygart Regarding the U.S. Postal Service Pro Cycling Team Doping Conspiracy.
United States Anti-Doping Agency (USADA). U.S. Postal Service Pro Cycling Team Investigation. Reasoned Decision.
WADA States That Armstrong Ban Could Potentially Be Reduced to Less Than Eight Years.
Report: Armstrong Could Testify Against UCI Officials Over Doping Matters.
Armstrong Admits Doping, and Says He Will Testify
The Whistleblower Lawsuit Against Lance Armstrong: What to Expect Next
Leigh Anderson, PharmD, Senior Editorial Pharmacist - Drugs.com
Posted: January 2013