People Appear to Use Senses to Keep Track of Time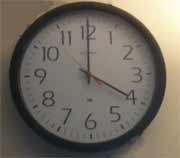 FRIDAY, Jan. 21 -- A person's perception of time may be influenced more by sensory information than by a specific internal clock, suggests a new study.
And that means that outside stimuli can bias a person's sense of how much time has passed, researchers say.
"There are many proposals for how an internal clock might work, but no one has found a single part of the brain that keeps track of time. It may be that there is no such place, that our perception of time is distributed across the brain and makes use of whatever information is available," Maneesh Sahani, of the Gatsby Computational Neuroscience Unit at University College London in the United Kingdom, said in a university news release.
Sahani and colleagues conducted a series of experiments with volunteers to test this theory. In one such test, 20 participants watched circles of light appear on a screen twice in a row, and were asked which one lasted longer. When the circles were flashed along with a mottled pattern that changed at random, but at a regular interval, the participants made better guesses -- which indicated that they were judging the passing of time against the rate in which the mottled pattern changed.
Then the scientists changed the rules: They asked the participants to determine how long the mottled patterns lasted, but varied the rate of the intervals between pattern changes. Although the patterns changed faster, the volunteers judged them to be lasting longer -- a phenomenon suggesting that sensory change can warp a person's sense of time.
The researchers concluded that people's sense of time comes partly from observing the rate of change in their surroundings and comparing it to the expected "average" rate of change in their sensory inputs.
"Our sense of time is affected by outside stimuli, and is therefore highly [variable], which is something that resonates with people's feelings about the passing of time," Sahani said.
Study first author Misha Ahrens added: "It is possible to bias people's perception of time, which does not fit with the idea of a rigid internal brain clock. The answer to why this happens is that part of our perception of time is based on changing sensory input from the outside world, which we can use to improve our judgments of time in an environment where rate of change is likely to be reliable."
The study was published in the Jan. 20 online edition of the journal Current Biology.
Posted: January 2011
Recommended for you