Antipsychotic Medication Use Can Be Reduced in Dementia Patients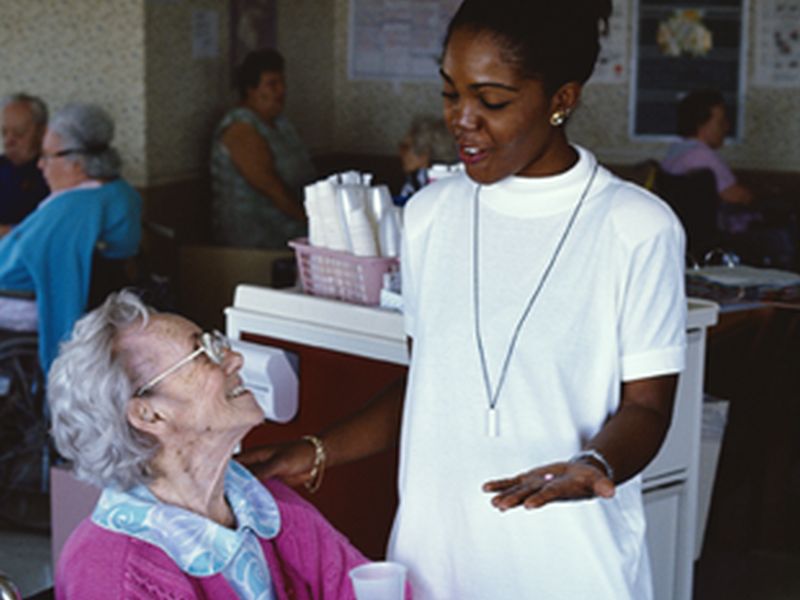 THURSDAY, April 20, 2017 -- Hoping to cut the use of antipsychotic drugs in nursing home residents, researchers tried training staff on new ways to meet the needs of residents with dementia. Their findings were published online April 17 in JAMA Internal Medicine.
The new study included 93 nursing homes in Massachusetts. Staff -- including nurses, nursing assistants, dietary staff, and receptionists -- were trained to recognize that difficult behavior by residents with dementia is a sign that they have unmet needs. The program, called OASIS, provides employees with the knowledge, skills, and attitudes to meet the needs of residents with dementia using drug-free methods, according to the report.
After nine months, results from nursing homes using OASIS were compared with those at 831 nursing homes in Massachusetts and New York that were not enrolled in the program. The researchers found that nursing homes enrolled in the OASIS program had a 7.6 percent drop in antipsychotic prescriptions, compared with a 3.9 percent decline at the other nursing homes.
"We don't medicate babies when they cry or act out, because we assume that they have a need that we need to address. However, when people with dementia are unable to communicate, the current approach medicates them when they have undesirable behaviors," lead author Jennifer Tjia, M.D., an associate professor of quantitative health sciences at the University of Massachusetts Medical School in Worcester, said in a university news release. "The OASIS program asks nursing staff to create care plans that include what residents can do, shifting away from the model that focuses on what they can't do. This is a fundamental shift in how to think about caring for persons with dementia and we showed that it is effective."
Abstract/Full Text (subscription or payment may be required)
© 2019 HealthDay. All rights reserved.
Posted: April 2017