Americans May Not Consume Enough Calcium: Study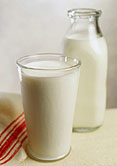 FRIDAY, April 29 -- A new study finds that Americans may not be consuming enough calcium.
Researchers analyzed data from 9,475 adults who took part in the National Health and Nutrition Examination Survey of 2003 to 2006 and found that self-reported calcium density was not sufficient to meet recommended levels.
Reported calcium supplement use increased with age in both men and women, but median dietary intake among those aged 81 and older was lower by 23 percent among men and by 14 percent among women, compared to those aged 19 to 30.
As people age, they consume less food (energy intake) and therefore less calcium. Median energy intake among men was 35 percent lower among those 81 and older (1,733 kcal/d) compared to those ages 19 to 30 (2,668 kcal/d), said the researchers from the University of Connecticut and Yale University.
In women, median energy intake was 28 percent lower in the oldest age group (1,325 kcal/d) than in the youngest age group (1,844 kcal/d), they noted.
Calcium supplements were taken by 51 percent of all the people included in the study, and the use of calcium supplements increased with age. In men, supplement use increased from 34 percent among the youngest age group to 54 percent in the oldest age group. In women, use increased from 42 percent to 64 percent.
The study appears in the May issue of the Journal of the American Dietetic Association.
"Calcium plays a fundamental role in promoting bone health and forestalling osteoporosis. In light of evidence that energy intake declines with aging, calcium-dense foods and calcium supplements become vital factors in maintaining adequate calcium intake across the lifespan," Jane E. Kerstetter, a professor in the Department of Allied Health Sciences, University of Connecticut, said in a journal news release.
"Encouraging calcium supplementation is an established approach to addressing this issue in the clinical setting -- one that needs additional emphasis in order to promote more frequent and sufficient supplementation in meeting adequate intake levels." she said. "Altering the concentration of calcium in the diet relative to energy by increasing consumption of nutrient-dense foods is a new and important concept that also deserves additional consideration as a component of osteoporosis prevention efforts."
More information
The U.S. National Institutes of Health has more about calcium.
© 2018 HealthDay. All rights reserved.
Posted: April 2011