An Aid to Tailoring Prostate Cancer Treatment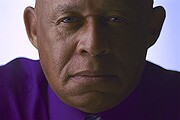 FRIDAY, May 15 -- Researchers claim to have found a way to better customize the treatment of prostate cancer.
Four risk factors that can help predict how long men could survive with metastatic prostate cancer have been identified by researchers from the Duke Comprehensive Cancer Center, who say such information would help doctors individualize treatments.
"There is a need for identification of accurate and simple-to-use prognostic factors for men with prostate cancer that has spread beyond the prostate," Andrew Armstrong, a medical oncologist at Duke and the lead investigator for the study, said in a university news release. "Our study was aimed at developing accurate predictors which may be used to assist in clinical decision making and also in planning clinical trials for men whose disease has stopped responding to hormone therapy."
By studying the records of more than 1,000 men who were taking part in a study of the chemotherapeutic drug docetaxel and its effect on metastatic prostate cancer, the researchers found four risk factors that predicted how well someone would respond to treatment:
The presence of cancer-related pain
Anemia
How extensively the cancer has spread to other organs
The progression of cancer in bone
"Using these predictors, we were able to assign patients to risk groups of good -- indicating an average survival of about two years; intermediate -- with survival of about 1.5 years; and poor -- with survival of less than a year," Armstrong said.
"By knowing a patient's prognosis and expected responses to chemotherapy, we are better able to discuss and determine whether a more- or less-aggressive treatment plan might be advisable," he said.
Another benefit is long-range knowledge, Armstrong said. Identifying men's prognoses and how they are expected to respond to treatment also would help determine whether a drug is ready for a phase 2 trial, which test a treatment that has been shown to help some people. It usually compares a newer treatment to the gold standard, or best-known treatment.
"We're eager to use this information to accurately estimate what to expect with current therapies," Armstrong said.
The findings are to be made available to those attending the American Society of Clinical Oncology's annual meeting in Orlando, Fla., in late May.
© 2018 HealthDay. All rights reserved.
Posted: May 2009