3.1 Million Hispanic Americans Struggle With Arthritis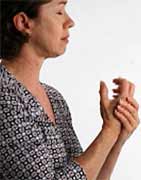 THURSDAY, Feb. 17 -- Arthritis affected about 3.1 million Hispanics in the United States between 2002 and 2009, and there were wide variations in arthritis rates among Hispanic subgroups, according to a new federal study.
The age-adjusted prevalence of arthritis ranged from a low of 11.7 percent among Cuban Americans to a high of 21.8 percent among Puerto Ricans, according to the analysis of National Health Interview Survey data from 2002, 2003, 2006 and 2009.
Among all Hispanic subgroups, at least 20 percent of people reported all three arthritis-attributable effects examined in the study (severe pain, physical limitations and work limitations).
Overall, nearly 1.4 million Hispanics reported arthritis-related physical limitations, about 875,000 Hispanics aged 18 to 64 reported arthritis-related work limitations, and about 1.2 million Hispanics reported severe pain caused by arthritis.
Rates of arthritis-attributable physical limitations ranged from 21.1 percent among Cuban Americans to 48.5 percent among Puerto Ricans. Rates of arthritis-attributable work limitations ranged from 32.9 percent among Central/South Americans to 41.6 percent among Mexican Americans. Rates of severe joint pain ranged from 23.7 percent among Cuban Americans to 44.1 percent among Puerto Ricans.
In most of the Hispanic subgroups, arthritis was most common among people older than 65, women and obese people.
The study is published in the Feb. 18 issue of the Morbidity and Mortality Weekly Report, published by the U.S. Centers for Disease Control and Prevention.
"The burden of arthritis and arthritis-attributable effects is varied but substantial among all Hispanic subgroups," the researchers wrote. "Wide-scale use of culturally adapted, community-level interventions that are proven to increase physical activity and self-management skills likely would lead to meaningful improvements in the quality of life for Hispanic adults with arthritis."
Arthritis affects about 50 million adults in the United States, is one of the most common health conditions among adults and is the leading cause of disability.
© 2018 HealthDay. All rights reserved.
Posted: February 2011