Tecentriq
Generic Name: atezolizumab (A te zoe LIZ ue mab)
Brand Name: Tecentriq
What is atezolizumab?
Atezolizumab is a monoclonal antibody that affects the actions of the body's immune system. Atezolizumab decreases a certain type of protein that protects tumor cells from attack by the immune system, which helps slow tumor growth.
Atezolizumab is used to treat a certain type of bladder cancer that has spread to other parts of the body or cannot be removed by surgery.
Atezolizumab is also used to treat non-small cell lung cancer that has spread to other parts of the body.
Atezolizumab is usually given after other cancer medicines have been tried without success.
Atezolizumab may also be used for purposes not listed in this medication guide.
What is the most important information I should know about atezolizumab?
Follow all directions on your medicine label and package. Tell each of your healthcare providers about all your medical conditions, allergies, and all medicines you use.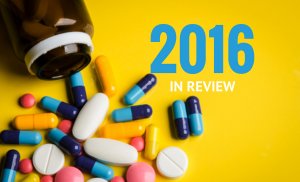 What should I discuss with my healthcare provider before receiving atezolizumab?
You should not use atezolizumab if you are allergic to it.
Atezolizumab strengthens your immune system to help your body fight against tumor cells. This can also cause your immune system to attack normal healthy tissues or organs. When this happens, you may develop serious or life-threatening medical problems.
To make sure atezolizumab is safe for you, tell your doctor if you have:
an active infection;

an immune system disorder such as lupus, ulcerative colitis, or Crohn's disease;

a history of organ transplant;

a breathing disorder;

liver disease;

a pancreas disorder;

a history of problems with your adrenal gland, thyroid, or pituitary gland;

diabetes; or

a nervous system disorder such as myasthenia gravis or Guillain Barré syndrome.
Do not use atezolizumab if you are pregnant. It could harm the unborn baby. Use effective birth control to prevent pregnancy while you are using this medicine and for at least 5 months after your last dose.
This medicine may affect fertility (your ability to have children) during treatment. Tell your doctor if you plan to become pregnant.
It is not known whether atezolizumab passes into breast milk or if it could harm a nursing baby. You should not breast-feed while using this medicine or within 5 months after your last dose. If you use a breast pump during this time, throw out any milk you collect. Do not feed it to your baby.
How is atezolizumab given?
Read all patient information, medication guides, and instruction sheets provided to you. Ask your doctor or pharmacist if you have any questions.
Atezolizumab is injected into a vein through an IV. A healthcare provider will give you this injection.
This medicine is given slowly and the IV infusion can take up to 60 minutes to complete.
Atezolizumab is usually given once every 3 weeks until your body no longer responds to the medication.
Atezolizumab can increase your risk of infection by changing the way your immune system works. You will need frequent medical tests.
What happens if I miss a dose?
Call your doctor for instructions if you miss an appointment for your atezolizumab injection.
What happens if I overdose?
Seek emergency medical attention or call the Poison Help line at 1-800-222-1222.
What should I avoid while receiving atezolizumab?
Follow your doctor's instructions about any restrictions on food, beverages, or activity.
Atezolizumab side effects
Get emergency medical help if you have signs of an allergic reaction: hives; difficult breathing; swelling of your face, lips, tongue, or throat.
Some side effects may occur during the injection. Tell your caregiver right away if you feel dizzy, chilled or feverish, light-headed, itchy, or have neck pain, back pain, trouble breathing, or swelling in your face.
Call your doctor at once if you have:
new or worsening cough, chest pain, feeling short of breath;

diarrhea, bloody or tarry stools;

nausea or vomiting;

severe stomach pain (especially in your upper stomach or spreading to your back);

a light-headed feeling, like you might pass out;

blurred vision, double vision, eye pain or redness;

signs of infection--fever, flu symptoms, cough, painful or frequent urination;

liver problems--loss of appetite, drowsiness, easy bruising or bleeding, dark urine, clay-colored stools, jaundice (yellowing of the skin or eyes);

nervous system problems--neck stiffness, increased sensitivity to light, confusion, severe muscle weakness, numbness or tingling in your hands or feet; or

signs of a hormonal disorder--frequent or unusual headaches, vision problems, feeling light-headed or very tired, mood or behavior changes, hoarse or deepened voice, increased hunger or thirst, increased urination, constipation, hair loss, sweating, feeling cold, muscle pain, weight gain, or weight loss.
Your cancer treatments may be delayed or permanently discontinued if you have certain side effects.
Common side effects may include:
nausea, loss of appetite;

constipation;

tiredness; or

urination problems.
This is not a complete list of side effects and others may occur. Call your doctor for medical advice about side effects. You may report side effects to FDA at 1-800-FDA-1088.
See also: Side effects (in more detail)
What other drugs will affect atezolizumab?
Other drugs may interact with atezolizumab, including prescription and over-the-counter medicines, vitamins, and herbal products. Tell each of your health care providers about all medicines you use now and any medicine you start or stop using.
More about Tecentriq (atezolizumab)
Consumer resources
Professional resources
Related treatment guides
Where can I get more information?
Your pharmacist can provide more information about atezolizumab.