Darzalex
Generic Name: daratumumab (DAR a TOOM ue mab)
Brand Name: Darzalex
What is daratumumab?
Daratumumab is a monoclonal antibody that blocks a certain protein in the body that can affect tumor cell growth. Monoclonal antibodies are made to target and destroy only certain cells in the body. This may help to protect healthy cells from damage.
Daratumumab is used to treat multiple myeloma (bone marrow cancer). Daratumumab is usually given after other cancer medicines have been tried without success.
Daratumumab is used alone when given to a person who has been treated with at least 3 prior cancer medicines.
For a person treated with only 1 prior cancer medicine, daratumumab may be given in combination with another cancer medicine (either lenalidomide or bortezomib) plus a steroid medicine called dexamethasone.
Daratumumab was approved by the US Food and Drug Administration (FDA) on an "accelerated" basis. In clinical studies, patients with multiple myeloma responded to this medicine. However, further studies are needed.
Daratumumab may also be used for purposes not listed in this medication guide.
What is the most important information I should know about daratumumab?
If you need to receive a blood transfusion, be sure to tell your caregivers that you are being treated with daratumumab.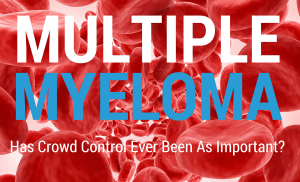 What should I discuss with my healthcare provider before receiving daratumumab?
You should not be treated with daratumumab if you are allergic to it.
To make sure daratumumab is safe for you, tell your doctor if you have:
a breathing disorder; or

a history of herpes zoster (also called shingles).
Using daratumumab during pregnancy could harm the unborn baby. Tell your doctor if you are pregnant or plan to become pregnant. Use effective birth control to prevent pregnancy while you are using this medicine and for at least 3 months after your last dose.
It is not known whether daratumumab passes into breast milk or if it could harm a nursing baby. Tell your doctor if you are breast-feeding a baby.
How is daratumumab given?
Daratumumab is injected into a vein through an IV. A healthcare provider will give you this injection. This medicine must be injected slowly.
Daratumumab is usually given every 1 to 3 weeks during the first several weeks of treatment. Then it is given once every 4 weeks until your body no longer responds to the medicine. How often you receive daratumumab will depend on whether you are also receiving lenalidomide or bortezomib.
Follow your doctor's dosing instructions very carefully. Your doctor will determine how long to treat you with daratumumab.
You may be given medication to prevent certain side effects while you are receiving daratumumab.
While using daratumumab, you may need frequent blood tests.
Daratumumab can affect blood tests that are used to match your blood type. If you need to receive a blood transfusion, be sure to tell your caregivers that you are being treated with daratumumab.
Daratumumab can affect blood-typing tests for up to 6 months after you stop using this medicine.
What happens if I miss a dose?
Call your doctor for instructions if you miss an appointment for your daratumumab injection.
What happens if I overdose?
Since this medicine is given by a healthcare professional in a medical setting, an overdose is unlikely to occur.
What should I avoid while receiving daratumumab?
Follow your doctor's instructions about any restrictions on food, beverages, or activity.
Daratumumab side effects
Get emergency medical help if you have signs of an allergic reaction: hives; difficult breathing; swelling of your face, lips, tongue, or throat.
Some side effects may occur during the injection. Tell your caregiver right away if you feel dizzy, itchy, cold, nauseated, or if you have a headache, stuffy nose, runny nose, cough, throat irritation, wheezing, trouble breathing, or a tight feeling in your throat.
Call your doctor at once if you have:
fever, chills, cough with yellow or green mucus;

stabbing chest pain, wheezing, feeling short of breath;

a red or blistering skin rash;

nerve problems--numbness, tingling, burning pain; or

low blood cell counts--fever, chills, flu-like symptoms, swollen gums, mouth sores, skin sores, rapid heart rate, pale skin, easy bruising, unusual bleeding, feeling light-headed.
Your cancer treatments may be delayed or permanently discontinued if you have certain side effects.
Common side effects may include:
nausea, diarrhea;

shortness of breath;

nerve problems;

swelling in your hands or feet;

fever, feeling tired;

muscle spasms, back pain; or

cold symptoms such as stuffy nose, sneezing, cough, sore throat.
This is not a complete list of side effects and others may occur. Call your doctor for medical advice about side effects. You may report side effects to FDA at 1-800-FDA-1088.
See also: Side effects (in more detail)
What other drugs will affect daratumumab?
Other drugs may interact with daratumumab, including prescription and over-the-counter medicines, vitamins, and herbal products. Tell each of your health care providers about all medicines you use now and any medicine you start or stop using.
More about Darzalex (daratumumab)
Consumer resources
Professional resources
Related treatment guides
Where can I get more information?
Your doctor or pharmacist can provide more information about daratumumab.