The originating document has been archived. We cannot confirm the completeness, accuracy and currency of the content.
Unoprostone Isopropyl
Class: EENT Drugs, Miscellaneous
Chemical Name: (+)-(Z)-7-[(1R,2R,3R,5S)-3,5-Dihydroxy-2-(3-oxodecyl)cyclopentyl]-5-heptenoic acid
Molecular Formula: C25H44O5
CAS Number: 120373-36-6
Brands: Rescula
Introduction
Ocular hypotensive agent; a synthetic docosanoid.1 6 8 9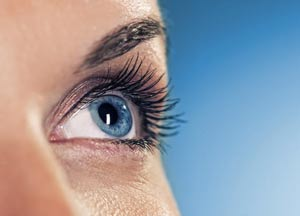 Uses for Unoprostone Isopropyl
Ocular Hypertension and Glaucoma
Reduction of elevated IOP in patients with open-angle glaucoma or ocular hypertension.1
Less effective than latanoprost 0.005%5 11 or timolol 0.5%9 10 in reducing IOP in patients with open-angle glaucoma or ocular hypertension.9 10 May be as effective as betaxolol 0.5%.9 10
Addition of unoprostone isopropyl 0.12% (not commercially available in the US) or 0.15% to latanoprost 0.005% or timolol 0.5% may result in additional IOP reduction.4 6 12
Unoprostone Isopropyl Dosage and Administration
Administration
Ophthalmic Administration
Apply topically to the affected eye(s).1
Avoid contamination of the solution container.1
If more than one topical ophthalmic drug is used, administer the drugs at least 5 minutes apart.1
Dosage
Available as unoprostone isopropyl; dosage expressed in terms of the salt.1
Adults
Ocular Hypertension and Glaucoma
Ophthalmic
One drop of a 0.15% solution in the affected eye(s) twice daily.1
Special Populations
No special population dosage recommendations at this time.1
Cautions for Unoprostone Isopropyl
Contraindications
Known hypersensitivity to unoprostone or any ingredient in the formulation.1
Warnings/Precautions
Pigmentation
Increased pigmentation of the iris, periorbital tissue (eyelid), and eyelashes reported.1 Pigmentation of periorbital tissue and eyelashes expected to increase as long as unoprostone is administered.1 Following discontinuance of therapy, increased brown pigmentation of the iris is likely to be permanent, while increased pigmentation of the periorbital tissue and eyelashes reportedly are reversible in most patients.1 Long-term effects of increased pigmentation unknown.1
Increased pigmentation of the iris develops slowly; may not be evident until after several months to years of unoprostone therapy.1 May continue therapy in patients who develop noticeably increased iris pigmentation.1
Intraocular Inflammation
Use with caution in patients with active intraocular inflammation (e.g., uveitis); may exacerbate inflammation.1
Macular Edema
Macular edema, including cystoid macular edema, reported.1 Use with caution in aphakic patients, in pseudophakic patients with a torn posterior lens capsule, or in patients with known risk factors for macular edema.1
Specific Populations
Pregnancy
Category C.1
Lactation
Distributed into milk in rats;9 not known whether unoprostone is distributed into human milk.1 Caution if used in nursing women.1
Pediatric Use
Safety and efficacy not established in pediatric patients.1
Geriatric Use
No overall differences in safety or efficacy relative to younger adults.1
Common Adverse Effects
Ocular burning/stinging,1 dry eyes,1 ocular itching,1 increased length of eyelashes,1 conjunctival injection.1
Interactions for Unoprostone Isopropyl
No formal drug interaction studies to date.13
Unoprostone Isopropyl Pharmacokinetics
Absorption
Bioavailability
Prodrug; absorbed through the cornea and conjunctival epithelium following ocular instillation and hydrolyzed to active form (unoprostone free acid).1
Minimal systemic absorption of unoprostone or exposure to unoprostone free acid after ocular instillation.1
Unoprostone free acid: Little or no accumulation observed.1
Onset
Reduction in IOP generally occurs within 30 minutes after ocular instillation.6 8
Distribution
Extent
Distributed into milk in rats;9 not known whether unoprostone is distributed into human milk.1
Elimination
Metabolism
Unoprostone free acid: Metabolized via omega or beta-oxidation to several inactive metabolites; no substantial effect on hepatic microsomal enzyme activity observed.1
Elimination Route
Unoprostone free acid: Rapidly eliminated from plasma, with concentration below limit of quantitation within 1 hour after ocular instillation.1
Metabolites excreted predominantly in urine.1
Half-life
Unoprostone free acid: 14 minutes.1
Stability
Storage
Ophthalmic
Solution
2–25°C.1
Actions
Structurally similar to docosanoid metabolites of docosahexaenoic acid (DHA), the most abundant polyunsaturated fatty acid in the retina.8

Mechanism of action not fully elucidated; appears to reduce IOP by increasing outflow of aqueous humor through the trabecular meshwork.1 8

May have a local effect on large-conductance, calcium-activated potassium channels (i.e., big potassium [BK] channels) and ClC-2 chloride channels.1 8
Advice to Patients
Importance of learning and adhering to proper administration techniques to avoid contamination of the solution with common bacteria that can cause ocular infections (e.g., bacterial keratitis).1 Serious infections may result from using contaminated ophthalmic solutions.1

Risk of permanent increased brown pigmentation of the iris.1 Risk of darkening of the skin around the eyes (eyelid), which may be reversible after discontinuance of unoprostone.1

Importance of delaying insertion of contact lenses for 15 minutes after unoprostone instillation, since benzalkonium chloride preservative may be absorbed by soft lenses.1

Importance of informing clinicians if an intercurrent ocular condition (e.g., trauma, infection) develops or ocular surgery is planned.9 Importance of immediately reporting ocular reactions, particularly conjunctivitis and eyelid reactions.1

Importance of administering different topical ophthalmic preparations at least 5 minutes apart.1

Importance of informing clinician of existing or contemplated concomitant therapy, including prescription and OTC drugs, as well as any concomitant illnesses.1

Importance of women informing clinicians if they are or plan to become pregnant or plan to breast-feed.1

Importance of informing patients of other important precautionary information.1 (See Cautions.)
Preparations
Excipients in commercially available drug preparations may have clinically important effects in some individuals; consult specific product labeling for details.
Please refer to the ASHP Drug Shortages Resource Center for information on shortages of one or more of these preparations.
Unoprostone Isopropyl

| Routes | Dosage Forms | Strengths | Brand Names | Manufacturer |
| --- | --- | --- | --- | --- |
| Ophthalmic | Solution | 0.15% | Rescula | Sucampo |
AHFS DI Essentials. © Copyright 2017, Selected Revisions November 19, 2013. American Society of Health-System Pharmacists, Inc., 4500 East-West Highway, Suite 900, Bethesda, Maryland 20814.
References
1. Sucampo Pharma Americas. Rescula (unoprostone isopropyl) ophthalmic solution 0.15% prescribing information. Bethesda, MD; 2013 Jan.
2. Nordmann JP, Rouland JF, Mertz BP. A comparison of the intraocular pressure-lowering effect of 0.5% timolol maleate and the docosanoid derivative of a PGF2 alpha metabolite, 0.12% unoprostone, in subjects with chronic open-angle glaucoma or ocular hypertension. Curr Med Res Opin. 1999; 15:87-93. [PubMed 10494491]
3. Stewart WC, Stewart JA, Kapik BM. The effects of unoprostone isopropyl 0.12% and timolol maleate 0.5% on diurnal intraocular pressure. J Glaucoma. 1998; 7:388-94. [PubMed 9871860]
4. Stewart WC, Sharpe ED, Stewart JA et al. Additive efficacy of unoprostone isopropyl 0.12% (rescula) to latanoprost 0.005%. Am J Ophthalmol. 2001; 131:339-44. [PubMed 11239866]
5. Susanna R, Giampani J, Borges AS et al. A double-masked, randomized clinical trial comparing latanoprost with unoprostone in patients with open-angle glaucoma or ocular hypertension. Ophthalmology. 2001; 108:259-63. [PubMed 11158796]
6. Haria M, Spencer CM. Unoprostone (isopropyl unoprostone). Drugs Aging. 1996; 9:213-8. [PubMed 8877315]
7. Yamamoto T, Kitazawa Y, Azuma I et al. Clinical evaluation of UF_021 (Rescula isopropyl unoprostone). Surv Ophthalmol. 1997; 41(suppl 2):S99-103. [PubMed 9154284]
8. Harms NV, Toris CB. Current status of unoprostone for the management of glaucoma and the future of its use in the treatment of retinal disease. Expert Opin Pharmacother. 2013; 14:105-13. [PubMed 23199345]
9. US Food and Drug Administration. Center for Drug Evaluation and Research. Application number 21-214: Medical review(s). From FDA website.
10. Nordmann J, Mertz B, Yannoulis N et al. A double-masked randomized comparison of the efficacy and safety of unoprostone with timolol and betaxolol in patients with primary open-angle glaucoma including pseudoexfoliation glaucoma or ocular hypertension. 6 month data. Am J Ophthalmol. 2002; 133(1):1-10. [PubMed 11755834]
11. Jampel HD, Bacharach J, Sheu WP et al. Randomized clinical trial of latanoprost and unoprostone in patients with elevated intraocular pressure. Am J Ophthalmol. 2002; 134:863-71. [PubMed 12470755]
12. Hommer A, Kapik B, Shams N et al. Unoprostone as adjunctive therapy to timolol: a double masked randomised study versus brimonidine and dorzolamide. Br J Ophthalmol. 2003; 87:592-8. [PubMed 12714402]
13. Sucampo Pharma Americas, Bethesda, MD: Personal communication.
More about unoprostone ophthalmic
Consumer resources
Professional resources
Other brands: Rescula
Related treatment guides