Trobicin
Generic Name: Spectinomycin Hydrochloride
Class: Aminocyclitols
VA Class: AM900
CAS Number: 22189-32-8

Introduction
Antibacterial; aminocyclitol antibiotic obtained from cultures of Streptomyces spectabilis.100
Uses for Trobicin
Gonorrhea and Associated Infections
Treatment of uncomplicated cervical, urethral, or rectal gonorrhea caused by susceptible Neisseria gonorrhoeae.100 101 102 103 118 Recommended by CDC, AAP, and others as an alternative agent for treatment of uncomplicated gonorrhea in adults, adolescents, and children† when cephalosporins are contraindicated or cannot be used.101 102 103 118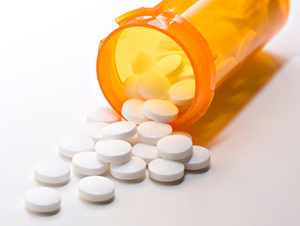 Treatment of disseminated gonococcal infections†.101 103 118 Ceftriaxone is usual drug of choice for initial parenteral treatment of disseminated gonorrhea in adults, adolescents, or children; CDC and AAP consider spectinomycin an alternative.101 103
May be ineffective for treatment of pharyngeal gonococcal infections†.102 103 108 109 If used for pharyngeal gonococcal infections, obtain follow-up culture 3–5 days after treatment to verify eradication of the infection.103
Trobicin Dosage and Administration
Administration
IM Administration
Administer by deep IM injection into the upper outer quadrant of the gluteal muscle using a 20-gauge needle.100
Reconstitution
Reconstitute vials containing 2 g of spectinomycin by adding 3.2 mL of bacteriostatic water for injection containing 0.945% benzyl alcohol.100 The resulting suspension contains 400 mg/mL of spectinomycin.100
After adding the diluent and prior to withdrawing the dose, shake the vial vigorously.100
Dosage
Available as spectinomycin hydrochloride; dosage expressed in terms of spectinomycin.100
Pediatric Patients
Gonorrhea and Associated Infections
Uncomplicated Urethral, Cervical, or Rectal Gonorrhea
IM
Children weighing <45 kg†: 40 mg/kg (maximum 2 g) as a single dose.101 103
Adolescents and children weighing ≥45 kg†: 2 g as a single dose.100 101 102 103 118 Manufacturer states that a single 4-g dose may be preferred in geographic areas where resistance is known to be prevalent; the dose can be divided and given into 2 different gluteal injection sites.100
Disseminated Gonorrhea†
IM
Adolescents and children weighing ≥45 kg†: 2 g every 12 hours;101 118 continue for 24–48 hours after improvement begins and switch to an oral regimen (e.g., cefixime, cefpodoxime) to complete ≥1 week of treatment.101 118
Adults
Gonorrhea and Associated Infections
Uncomplicated Urethral, Cervical, or Rectal Gonorrhea
IM
2 g as a single dose.100 101 102 118 Manufacturer states that a single 4-g dose may be preferred in geographic areas where resistance is known to be prevalent; the dose can be divided and given into 2 different gluteal injection sites.100
Disseminated Gonorrhea†
IM
2 g every 12 hours; continue for 24–48 hours after improvement begins and switch to an oral regimen (e.g., cefixime, cefpodoxime) to complete ≥1 week of treatment.101 118
Cautions for Trobicin
Contraindications
Hypersensitivity to spectinomycin.100
Warnings/Precautions
Sensitivity Reactions
Hypersensitivity Reactions
Anaphylaxis or anaphylactoid reactions have been reported rarely.100 110
Use with caution in patients with history of allergies.100
Serious hypersensitivity reactions should be treated with appropriate therapy (e.g., epinephrine, corticosteroids, maintenance of an adequate airway, oxygen) as indicated.100
General Precautions
Selection and Use of Anti-infectives
To reduce development of drug-resistant bacteria and maintain effectiveness of spectinomycin and other antibacterials, use only for treatment or prevention of infections proven or strongly suspected to be caused by susceptible bacteria.100
When selecting or modifying anti-infective therapy, use results of culture and in vitro susceptibility testing.100 In the absence of such data, consider local epidemiology and susceptibility patterns when selecting anti-infectives for empiric therapy.100
Spectinomycin-resistant strains of N. gonorrhoeae have been reported.101 104 Clinical efficacy should be monitored to detect evidence of development of resistance.100
Specific Populations
Pregnancy
Category B.100
CDC and other clinicians state that spectinomycin can be used for the treatment of gonorrhea in pregnant women† who are hypersensitive to cephalosporins.101 102
Lactation
Not known whether distributed into milk.100 Use with caution.100
Pediatric Use
Safety and efficacy not established in pediatric patients.100
CDC and AAP recommend use of spectinomycin for treatment of gonococcal infections in children† who cannot receive cephalosporins.101 103
Spectinomycin is reconstituted with bacteriostatic water for injection containing benzyl alcohol.100 Although a causal relationship has not been established, administration of injections preserved with benzyl alcohol has been associated with toxicity in neonates.100 111 112 113 114 115 116 Although use of drugs preserved with benzyl alcohol should be avoided in neonates whenever possible, AAP states that presence of small amounts of the preservative in a commercially available injection should not proscribe its use when indicated in neonates.111
Common Adverse Effects
Pain at the injection site,100 urticaria,100 transient rash, pruritus, dizziness,100 headache, nausea,100 vomiting, chills,100 fever,100 nervousness, insomnia.100
Trobicin Pharmacokinetics
Absorption
Bioavailability
Not absorbed from GI tract; must be given parenterally.b
Rapidly absorbed following IM administration; peak serum concentrations attained within 1–2 hours.100
Distribution
Extent
Not known whether spectinomycin crosses the placenta or is distributed into milk.b
Plasma Protein Binding
Not substantially bound to plasma proteins.b
Elimination
Elimination Route
70–100% of a single IM dose is excreted in urine by glomerular filtration as spectinomycin or a microbiologically active metabolite.b
Hemodialysis has been reported to aid in the removal of spectinomycin.100
Half-life
1.2–2.8 hours in adults.b
Stability
Storage
Parenteral
Powder for IM Injection
20–25°C.100 Following reconstitution with bacteriostatic water for injection containing 0.945% benzyl alcohol, store at 20–25°C and use within 24 hours.100
Actions and Spectrum
Usually bacteriostatic in action.b Inhibits protein synthesis in susceptible bacteria by binding to 30S ribosomal subunits.100

In vitro spectrum of activity includes Neisseria gonorrhoeae and a wide variety of gram-positive and gram-negative bacteria.100 b Inactive against Treponema pallidum or Chlamydia trachomatis.b

Resistance to spectinomycin has been induced in vitro and spectinomycin-resistant strains of N. gonorrhoeae have been reported.101 104

Usually active against strains of N. gonorrhoeae resistant to fluoroquinolones.105 106 107
Advice to Patients
Advise patients that antibacterials (including spectinomycin) should only be used to treat bacterial infections and not used to treat viral infections (e.g., the common cold).100

Importance of completing full course of therapy, even if feeling better after a few days.100

Advise patients that skipping doses or not completing the full course of therapy may decrease effectiveness and increase the likelihood that bacteria will develop resistance and will not be treatable with spectinomycin or other antibacterials in the future.100

Importance of informing clinicians of existing or contemplated concomitant therapy, including prescription and OTC drugs.

Importance of women informing clinician if they are or plan to become pregnant or plan to breast-feed.

Importance of advising patients of other important precautionary information. (See Cautions.)
Preparations
Excipients in commercially available drug preparations may have clinically important effects in some individuals; consult specific product labeling for details.
Spectinomycin hydrochloride is no longer commercially available in the US. The previously available preparation (Trobicin; Pfizer) was discontinued in November 2005 due to marketing reasons. There currently are no alternative suppliers of spectinomycin.
Spectinomycin Hydrochloride

| Routes | Dosage Forms | Strengths | Brand Names | Manufacturer |
| --- | --- | --- | --- | --- |
| Parenteral | For injection, for IM use only | 2 g (of spectinomycin) | Trobicin (with bacteriostatic water for injection diluent containing benzyl alcohol 0.945%) | Pfizer |
AHFS DI Essentials. © Copyright 2017, Selected Revisions January 1, 2008. American Society of Health-System Pharmacists, Inc., 7272 Wisconsin Avenue, Bethesda, Maryland 20814.
† Use is not currently included in the labeling approved by the US Food and Drug Administration.
References
Only references cited for selected revisions after 1984 are available electronically.
100. Pharmacia & Upjohn Company. Trobicin (spectinomycin) for injectable suspension prescribing information. Kalamazoo, MI. 2003 Sep.
101. Centers for Disease Control and Prevention. Sexually transmitted diseases treatment guidelines, 2006. MMWR Recomm Rep. 2006; 55(No. RR-11):1-96.
102. Anon. Drugs for sexually transmitted infections. Med Lett Treat Guid. 2004; 2:67-74.
103. American Academy of Pediatrics. 2006 Red Book: Report of the Committee on Infectious Diseases. 27th ed. Elk Grove Village, IL: American Academy of Pediatrics; 2006:754,305.
104. Ye S, Su X, Wang Q et al. Surveillance of antibiotic resistance of Neisseria gonorrhoeae isolates in China, 1993–1998. Sex Transm Dis. 2002; 29:242-5. [PubMed 11912467]
105. Zenilman JM. Update on quinolone resistance in Neisseria gonorrhoeae. Curr Infect Dis Rep. 2002; 4:144-7. [PubMed 11927047]
106. Cao W, Zhang X, Fei S et al. Analysis of the antibiotic sensitivity of Neisseria gonorrhoeae in Guangzhou, Peoples Republic of China. Sex Trans Dis. 2000; 27:480-2.
107. Australian Gonococcal Surveillance Programme. Annual report of the Australian Gonococcal Surveillance Programme, 2001. Commun Dis Intell. 2002; 26:242-7.
108. Hutt DM, Judson F. Epidemiology and treatment of oropharyngeal gonorrhea. Ann Intern Med. 1986; 104:655-8. [IDIS 215748] [PubMed 2938529]
109. Judson FN, Ehret JM, Handsfield HH. Comparative study of ceftriaxone and spectinomycin for treatment of pharyngeal and anorectal gonorrhea. JAMA. 1985; 253:1417-9. [IDIS 196527] [PubMed 3155806]
110. Bender BS, Parker CL, Haponik EF. Systemic anaphylaxis caused by parenteral spectinomycin. South Med J. 1983; 76:1456-7. [IDIS 178774] [PubMed 6227084]
111. American Academy of Pediatrics Committee on Fetus and Newborn and Committee on Drugs. Benzyl alcohol: toxic agent in neonatal units. Pediatrics. 1983; 72:356-8. [IDIS 175725] [PubMed 6889041]
112. Anon. Benzyl alcohol may be toxic to newborns. FDA Drug Bull. 1982; 12:10-11.
113. Centers for Disease Control. Neonatal deaths associated with use of benzyl alcohol. MMWR Morb Mortal Wkly Rep. 1982; 31:290-1. [IDIS 150868] [PubMed 6810084]
114. Gershanik J, Boecler B, Ensley H et al. The gasping syndrome and benzyl alcohol poisoning. N Engl J Med. 1982; 307:1384-8. [IDIS 160823] [PubMed 7133084]
115. Menon PA, Thach BT, Smith CH et al. Benzyl alcohol toxicity in a neonatal intensive care unit: incidence, symptomatology, and mortality. Am J Perinatol. 1984; 1:288-92. [PubMed 6440575]
116. Anderson CW, Ng KJ, Andresen B et al. Benzyl alcohol poisoning in a premature newborn infant. Am J Obstet Gynecol. 1984; 148:344-6. [IDIS 181207] [PubMed 6695984]
117. Clinical and Laboratory Standards Institute. Performance standards for antimicrobial susceptibility testing; sixteenth informational supplement. CLSI document M100-S16. Wayne, PA; 2006.
118. Centers for Disease Control and Prevention. Updated recommended treatment regimens for gonococcal infections and associated conditions—United States, April 2007. From CDC website (). Accessed 2007 April 12.
b. AHFS Drug Information 2004. McEvoy GK, ed. Spectinomycin Hydrochloride. Bethesda, MD: American Society of Health-System Pharmacists; 2004:457-9.
More about Trobicin (spectinomycin)
Professional resources