Generic Name: Chlorzoxazone
Class: Centrally Acting Skeletal Muscle Relaxants
VA Class: MS200
CAS Number: 95-25-0

The Parafon Forte DSC brand name has been discontinued in the U.S. If generic versions of this product have been approved by the FDA, there may be generic equivalents available.
Introduction
Centrally acting skeletal muscle relaxant.b
Uses for Parafon Forte DSC
Muscular Conditions
Adjunct to rest, physical therapy, analgesics, and other measures for the relief of discomfort associated with acute, painful musculoskeletal conditions.a i
If pharmacologic therapy is required for acute low back pain (usually a benign and self-limiting condition105 106 108 ), an analgesic (e.g., acetaminophen, NSAIA) generally is recommended.104 105 106 108 117 Skeletal muscle relaxants may be used alone or in combination with analgesics for short-term relief; however, consider high incidence of adverse effects (e.g., CNS effects).104 106 107 108 Use skeletal muscle relaxants with caution and weigh risks against benefits.104 106 107 108
Various skeletal muscle relaxants appear to have comparable efficacy for low back pain relief.103 104 106 108
Chlorzoxazone is ineffective in the treatment of skeletal muscle hyperactivity secondary to chronic neurologic disorders (e.g., cerebral palsy) and other dyskinesias.b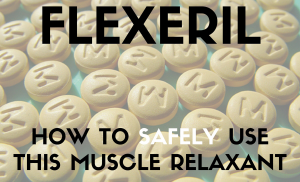 Parafon Forte DSC Dosage and Administration
Administration
Oral Administration
Administer orally.a i
Dosage
Adults
Muscular Conditions
Oral
Initially, 500 mg 3–4 times daily; if response inadequate, increase dosage to 750 mg 3–4 times daily.a i
When desired response is obtained, reduce dosage to lowest effective level.a i
Usual adult dosage: 250 mg 3–4 times daily.i
Cautions for Parafon Forte DSC
Contraindications
Known intolerance to chlorzoxazone or any ingredient in the formulation.a i
Warnings/Precautions
Warnings
Hepatotoxicity
Serious, possibly fatal, hepatotoxicity reported rarely; may be associated with increased serum AST, ALT, alkaline phosphatase, and bilirubin concentrations and increased sulfobromophthalein sodium (BSP) retention.100 101 102 Mechanism unknown but appears idiosyncratic and unpredictable.100 101 102
Perform liver function tests periodically in patients receiving long-term therapy.101
If elevated liver function tests or bilirubin reported or if signs and symptoms of hepatic dysfunction (e.g., fever, rash, anorexia, nausea/vomiting, fatigue, right upper quadrant pain, dark urine, or jaundice) occur, discontinue chlorzoxazone immediately.100 102 a
CNS Effects
Performance of activities requiring mental alertness or physical coordination may be impaired.a i
Concurrent use of other CNS depressants may potentiate CNS depression.a i (See Specific Drugs under Interactions.)
Sensitivity Reactions
Sensitivity reactions (e.g., urticaria, redness, petechiae, pruritus) reported rarely; angioedema and anaphylactic reactions are extremely rare.a i Use with caution in patients with allergies or with a history of allergic drug reactions.a b i
Specific Populations
Pregnancy
Category C.i
Lactation
Not known whether chlorzoxazone is distributed into milk; use with caution.b
Pediatric Use
Safety and efficacy not established.a i
Common Adverse Effects
Drowsiness, dizziness.b
Interactions for Parafon Forte DSC
Specific Drugs
| Drug | Interaction | Comments |
| --- | --- | --- |
| CNS depressants (e.g., alcohol, barbiturates) | Potential additive CNS depressiona i | Use concomitantly with cautiona i |
Parafon Forte DSC Pharmacokinetics
Absorption
Well absorbed following oral administration,b with peak plasma concentrations usually attained within 1–2 hours.a i
Onset
Usually within 1 hour.b
Duration
3–4 hours.b
Distribution
Extent
In dogs, found in plasma and fat; also present in liver, muscle, brain, and kidneys.b
Not known whether chlorzoxazone crosses the placenta or is distributed into milk.b
Elimination
Metabolism
Rapidly metabolized in the liver to 6-hydroxychlorzoxazone, an inactive metabolite.b
Elimination Route
Excreted principally in urine as a conjugated glucuronide; <1 % excreted as unchanged drug.a i
Half-life
66 minutes.b
Stability
Storage
Oral
Tablets
15–30°C.a i
Actions
CNS depressant with sedative and skeletal muscle relaxant effects.b

Inhibits multisynaptic reflex arcs at the level of the spinal cord and subcortical areas of the brain; results in reduction of skeletal muscle spasm with relief of pain and increased mobility of involved muscles.a i
Advice to Patients
Importance of informing clinician if any early signs or symptoms of possible liver dysfunction (e.g., fatigue, anorexia, nausea and/or vomiting, fever, rash, jaundice, dark urine, right upper quadrant pain) occur.100 102

Potential to impair mental alertness or physical coordination, especially with concomitant use of alcohol or other CNS depressants; use caution when driving or operating machinery.a i

Importance of informing clinicians of existing or contemplated concomitant therapy, including prescription and OTC drugs and dietary or herbal supplements, as well as concomitant illnesses.a i

Importance of women informing clinicians if they are or plan to become pregnant or plan to breast-feed.a i

Importance of informing patients of other important precautionary information. (See Cautions.)
Preparations
Excipients in commercially available drug preparations may have clinically important effects in some individuals; consult specific product labeling for details.
Please refer to the ASHP Drug Shortages Resource Center for information on shortages of one or more of these preparations.
* available from one or more manufacturer, distributor, and/or repackager by generic (nonproprietary) name
Chlorzoxazone

| Routes | Dosage Forms | Strengths | Brand Names | Manufacturer |
| --- | --- | --- | --- | --- |
| Oral | Tablets | 250 mg* | Chlorzoxazone Tablets | |
| | | 500 mg* | Chlorzoxazone Tablets | |
| | | | Parafon Forte DSC Caplets (scored) | Ortho-McNeil |
AHFS DI Essentials. © Copyright 2018, Selected Revisions November 19, 2012. American Society of Health-System Pharmacists, Inc., 4500 East-West Highway, Suite 900, Bethesda, Maryland 20814.
References
100. McNeil Pharmaceutical. Parafon Forte DSC (chlorzoxazone) prescribing information (dated 1994 Dec 8). In: Physicians' desk reference. 48th ed. Montvale, NJ: Medical Economics Company Inc; 1996:1581.
101. Powers BJ, Cattau EL Jr, Zimmerman HJ. Chlorzoxazone hepatotoxic reactions. Arch Intern Med. 1986; 146:1183-6. [PubMed 3521519]
102. McNeil Pharmaceutical. Paraflex (chlorzoxazone) prescribing information (dated 1994 Dec 8). In: Physicians' desk reference. 50th ed. Montvale, NJ: Medical Economics Company Inc; 1996:1580-1.
103. See S, Ginzburg R. Skeletal muscle relaxants. Pharmacotherapy. 2008; 28:207-13. [PubMed 18225966]
104. van Tulder MW, Touray T, Furlan AD et al. Muscle relaxants for non-specific low back pain. Cochrane Database Syst Rev. 2003; :CD004252. [PubMed 12804507]
105. Roelofs PD, Deyo RA, Koes BW et al. Non-steroidal anti-inflammatory drugs for low back pain. Cochrane Database Syst Rev. 2008; :CD000396. [PubMed 18253976]
106. Chou R, Qaseem A, Snow V et al. Diagnosis and treatment of low back pain: a joint clinical practice guideline from the American College of Physicians and the American Pain Society. Ann Intern Med. 2007; 147:478-91. [PubMed 17909209]
107. Institute for Clinical Systems Improvement. Health care guideline: adult acute and subacute low back pain. 15th ed. Bloomington, MN; 2012 Jan. From the ICSI website
108. Toth PP, Urtis J. Commonly used muscle relaxant therapies for acute low back pain: a review of carisoprodol, cyclobenzaprine hydrochloride, and metaxalone. Clin Ther. 2004; 26:1355-67. [PubMed 15530999]
117. Boothby LA, Doering PL, Hatton RC. Carisoprodol: a marginally effective skeletal muscle relaxant with serious abuse potential. Hosp Pharm. 2003; 38:337-45.
a. Ortho-McNeil. Parafon Forte DSC caplets prescribing information. Raritan, NJ; 2000 Aug.
b. AHFS drug information 2006. McEvoy GK, ed. Chloroxazone. Bethesda, MD: American Society of Health-System Pharmacists; 2006:[1385-6.].
i. Amide Pharmaceutical, Inc. Chlorzoxazone tablets prescribing information. Little Falls, NJ: 2002 Apr.
More about Parafon Forte DSC (chlorzoxazone)
Consumer resources
Professional resources
Other brands: Lorzone
Related treatment guides