Breast calcifications
Medically reviewed by Drugs.com. Last updated on Apr 28, 2021.
Definition
Breast calcifications are calcium deposits within breast tissue. They appear as white spots or flecks on a mammogram.
Breast calcifications are common on mammograms, and they're especially prevalent after age 50. Although breast calcifications are usually noncancerous (benign), certain patterns of calcifications — such as tight clusters with irregular shapes and fine appearance — may indicate breast cancer or precancerous changes to breast tissue.
On a mammogram, breast calcifications can appear as macrocalcifications or microcalcifications.
Macrocalcifications. These show up as large white dots or dashes. They're almost always noncancerous and require no further testing or follow-up.
Microcalcifications. These show up as fine, white specks, similar to grains of salt. They're usually noncancerous, but certain patterns can be an early sign of cancer.
If breast calcifications appear suspicious on your initial mammogram, you will be called back for additional magnification views to get a closer look at the calcifications. If the second mammogram is still worrisome for cancer, your doctor may recommend a breast biopsy to know for sure. If the calcifications appear noncancerous, your doctor may recommend returning to your usual yearly screening or have you return in six months for a short-term follow-up to make sure the calcifications are not changing.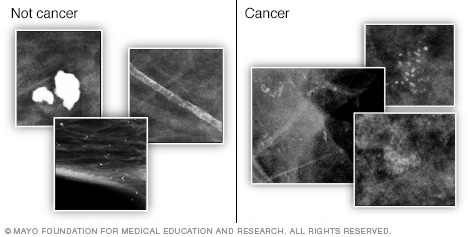 Breast calcifications
Calcifications are small calcium deposits in the breast that show up as white spots on a mammogram. Large, round or well-defined calcifications (shown left) are more likely to be noncancerous (benign). Tight clusters of tiny, irregularly shaped calcifications (shown right) may indicate cancer.
Causes
Sometimes calcifications indicate breast cancer, such as ductal carcinoma in situ (DCIS), but most calcifications result from noncancerous (benign) conditions.
Possible causes of breast calcifications include:
Breast cancer
Breast cysts
Cell secretions or debris
Ductal carcinoma in situ (DCIS)
Fibroadenoma
Mammary duct ectasia
Previous injury or surgery to the breast (fat necrosis)
Previous radiation therapy for cancer
Skin (dermal) or blood vessel (vascular) calcification
Products that contain radiopaque materials or metals, such as deodorants, creams or powders, may mimic calcifications on a mammogram, making it more difficult to interpret whether the calcifications are due to benign or cancerous changes. Because of this, skin products of any kind should not be worn during a mammogram.
When to see a doctor
If your radiologist suspects that your breast calcifications are associated with precancerous changes or breast cancer, you may need to have another mammogram with magnification views to get a closer look at the calcifications. Or the radiologist may recommend a breast biopsy to test a sample of breast tissue.
Your radiologist may request any prior mammogram images to compare and determine if the calcifications are new or have changed in number or pattern.
If breast calcifications appear to be caused by a benign condition, your radiologist may recommend a six-month follow-up for another mammogram with magnification views. The radiologist checks the images for changes in the shape, size and number of calcifications or whether they remain unchanged.
© 1998-2022 Mayo Foundation for Medical Education and Research (MFMER). All rights reserved. Terms of use.