Concussion testing and screening tools
Medically reviewed by Drugs.com. Last updated on Sep 1, 2023.
Overview
Concussion testing and screening tools look at brain function before and after a head trauma. The screening is done by a doctor or other health care professional who is an expert in checking for and treating concussions. A concussion is a milder form of traumatic brain injury that occurs when a blow or sudden jolt is associated with a change in brain function. Not all head trauma causes a concussion, and a concussion can happen without head trauma.
Concussion screening tools measure physical skills such as balance. They also measure mental skills such as memory, concentration, attention, and how quickly you can think and solve problems. These are some of the tools health care professionals use to check and manage your health after a blow to the head.
People who are at risk of concussion may benefit from baseline screening before an injury. Athletes may have baseline screening at the beginning of the sports season. Concussion screening after a head injury can be compared to baseline screening results to look for changes.
While concussion screening tools help identify people with concussions, they're not to be used to rule out a concussion. A thorough exam by a health care professional is needed when a concussion is suspected.
Read more about concussions.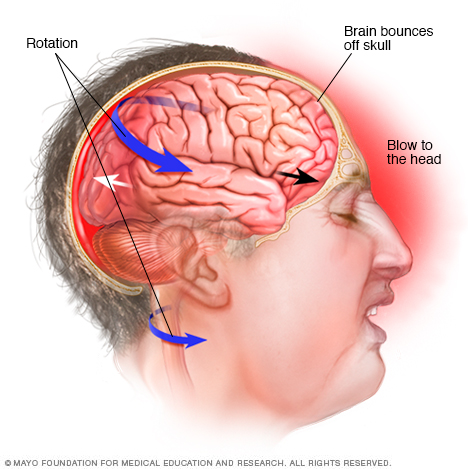 Concussion
A concussion occurs when a blow to the head or a sudden jolt shakes the head and causes movement of the brain inside the bony and rigid skull.
Why it's done
Concussion screening tools check the brain's processing and thinking function after a head injury. Athletes who are at risk of a head injury also may have a baseline screening before the beginning of the sports season.
A baseline concussion screening shows how well your brain is currently functioning. A health care professional may perform the screening by asking questions. Or the screening might be done using a computer.
After a concussion, screening may be repeated and compared to the previous results to look for any changes in your brain function. It also can be used to learn when your screening results have returned to baseline.
Risks
Risks after a concussion
If you continue to play or if you return to play too early after a concussion, your risk of having another concussion increases.
Repeat concussions can take longer to heal. Researchers have studied whether repeated concussions increase the risk of permanent neurological damage or brain degeneration, but study results have been mixed.
Children, teens and female athletes may be at a higher risk of concussions than are others. Their recovery may be longer.
Any athlete who has had a concussion needs to receive medical clearance before returning to sports or activities. The athlete needs to see a doctor or health care professional with expertise in evaluating and treating people with concussions. The most recent research shows early low-risk exercise can be helpful in concussion recovery. But you need specific instructions from a health care professional before starting low-risk exercise.
Before returning to sports, people with concussions need to follow a step-wise approach of increasing activity levels. A step-wise approach involves increasing the duration, skills and intensity of exercise over several days. Athletes only move to the next level if they tolerate each step without developing symptoms. All levels must be completed without having symptoms in order to be cleared to return to sports and physical activity.
What you can expect
Before a concussion
You may benefit from a baseline concussion screening before the sports season starts. A baseline concussion screening is often performed using a computer, tablet or phone. On the computer, the screening is similar to playing a video game.
There are various programs and electronic tools that can be used to offer a fast, efficient way for athletes to test their baseline brain function.
In the absence of baseline testing, trained health care professionals can still diagnose and manage a concussion if one occurs. They may perform testing and compare the results to your peers. Or they may perform tests to establish a new baseline upon recovery from your current concussion.
After a concussion
You may have another computerized concussion screening after a concussion. The result can be compared to your baseline screening if one was performed. Depending on the result, you may repeat the screening several times for up to a few weeks.
You also may have a physical exam and testing to check for problems with balance, eye movements and coordination. Computerized or pencil-and-paper concussion screening tools check for problems with thinking and memory. You may be tested to determine how quickly you can answer a question or solve a problem. You also may be tested on your ability to remember things, and on how well you can concentrate and pay attention.
Concussion screening tools help health care professionals determine your current function and when your brain function has returned to the level it was before the injury. Concussion screening tools are used together with your description of symptoms and a physical exam to decide when it's okay to resume regular activities.
Results
Returning to play
Don't return to sports if you're still having concussion symptoms, even if screening results show that your brain function has returned to the level it was before the injury. Most concussions resolve quickly, but symptoms can persist for some athletes. The type of symptoms and how long they last can vary from person to person.
To determine if you're ready to return to play, health care professionals review your history and symptoms. They perform a neurological exam to test your balance and other brain functions.
If your concussion symptoms don't go away, you may need additional visits with other types of health care professionals. You may need more-detailed testing to further assess changes in brain function.
Your health care team also can tell you when to return to school and other activities.
© 1998-2023 Mayo Foundation for Medical Education and Research (MFMER). All rights reserved. Terms of use.