Nutrition Facts: A guide to food labels
Medically reviewed by Drugs.com. Last updated on Jul 12, 2021.
The Nutrition Facts label is required by the Food and Drug Administration (FDA) on most packaged foods and beverages. The Nutrition Facts label provides detailed information about a food's nutrient content, such as the amount of fat, sugar, sodium and fiber it has.
In 2016 the FDA announced changes to the label aimed at helping consumers make more informed choices. Food manufacturers are expected to adopt the changes by 2021. Many have already made the switch. The changes include:
Making calories and servings per container more prominent by using larger print.
Adding "added sugars" as a category under "total sugars."
Removing "calories from fat" because research shows the type of fat is more important than the amount.
Updating which nutrients must be listed. Vitamin D and potassium will be added; vitamins A and C will no longer be required but can be included on a voluntary basis.
Updating serving sizes to better match how much people actually eat. Serving sizes are not meant to tell people how much to eat.
Listing calories and nutrients for a single serving as well as the whole package for foods that are typically consumed in one sitting.
Knowing how to read food labels is especially important if you have health conditions, such as high blood pressure or high cholesterol, and need to follow a special diet. It also makes it easier to compare similar foods to see which is healthier.
The more practice you get reading food labels, the better you can become in using them as a tool to plan your healthy, balanced diet.
To help you decode the new label, each section is explained in the example.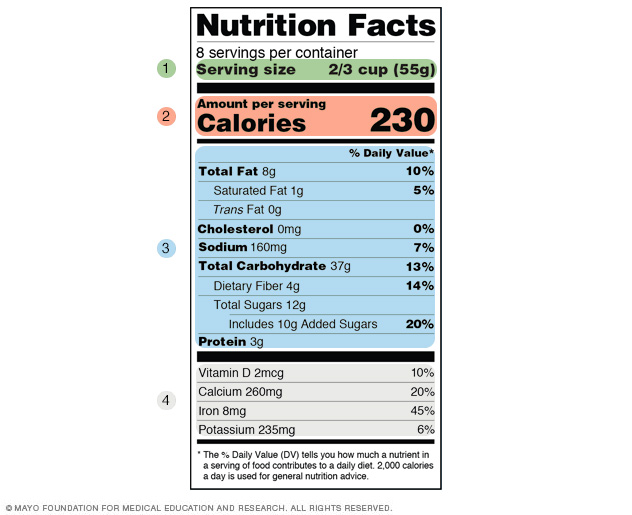 Sample Nutrition Facts label
Serving size: Serving sizes are listed in standard measurements, such as cups or pieces. Similar foods usually have similar serving sizes, so you can compare them more easily. The label also includes the number of servings per container to help you calculate the calories and nutrients in the entire package. Be sure to check the serving size against how much you actually eat. If a serving is 16 crackers but you eat 32, that doubles the calories, sugar, fat and other nutrients you eat. Calories: The number of calories listed shows the calories in one serving of the food. You can use this information to compare similar products and choose the one that is lower in calories or fits in your calorie needs. Nutrients and Daily Value: The label must list the amounts of total fat, saturated fat, trans fat, cholesterol, sodium, total carbohydrate, dietary fiber, sugars, protein, vitamin D, calcium, iron and potassium that are in one serving. The Daily Value (DV) tells you how close you are to meeting your daily requirements for each nutrient. It's based on a typical 2,000-calorie-a-day diet. The DV can help you track whether you're getting enough — or too much — of all the nutrients you need in a day. Nutrients to increase: The typical American diet is low in fiber, vitamin D, calcium, iron and potassium. They're listed on the label to encourage Americans to include more of these important nutrients in their diet. Source: U.S. Food and Drug Administration, 2016
© 1998-2019 Mayo Foundation for Medical Education and Research (MFMER). All rights reserved. Terms of use.