Car seat safety: Avoid 9 common mistakes
Knowing how to safely buckle up your child as he or she grows can be difficult. Check out 9 common mistakes parents often make when it comes to car seat safety — and how to avoid them.
Medically reviewed on Sep 12, 2018
1. Getting a used car seat without doing your homework
If you're considering a used car seat for your child, make sure the car seat:
Comes with instructions and a label showing the manufacture date and model number
Hasn't been recalled
Isn't expired or more than 6 years old
Has no visible damage or missing parts
Has never been in a moderate or severe crash
If you don't know the car seat's history, don't use it.
2. Placing the car seat in the wrong spot
The safest place for your child's car seat is the back seat, away from active air bags. If the car seat is placed in the front seat and the air bag inflates, it could hit the back of a rear-facing car seat — right where your child's head is — and cause a serious or fatal injury. A child who rides in a forward-facing car seat could also be harmed by an air bag.
If it's necessary for a child to travel in a vehicle such as a pickup truck that has only one row of seats, deactivate the front air bags or install a power switch to prevent air bag deployment during a crash.
If you're placing only one car seat in the back seat, install it in the center of the seat — if a good fit is possible — rather than next to a door to minimize the risk of injury during a crash.
3. Incorrectly installing the car seat or buckling up your child
Before you install a car seat, read the manufacturer's instructions and the section on car seats in the vehicle's owners manual. Make sure the seat is tightly secured — allowing no more than 1 inch (2.5 centimeters) of movement from side to side or front to back when grasped at the bottom near the attachment points — and facing the correct direction.
If you're using an infant-only seat or a convertible seat in the rear-facing position, keep these tips in mind:
Use the harness slots described in the car seat's instruction manual, usually those at or below the child's shoulders. Place the harness straps over your child's shoulders.
Buckle the harness straps and chest clip, with the chest clip even with your child's armpits. Make sure the straps and clip lie flat against your child's chest and over his or her hips with no slack. If necessary, place tightly rolled small blankets alongside your baby to provide head and neck support. If the car seat manufacturer allows, rolled washcloths may be used between the crotch strap and your baby to create a secure fit.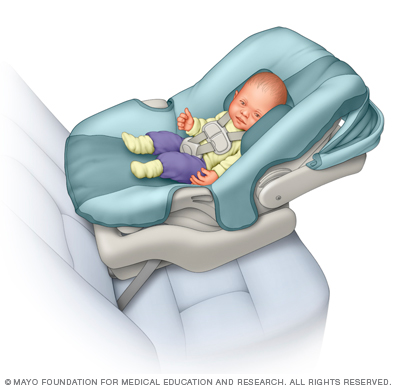 Infant-only car seat
Infant-only car seats usually have a handle for carrying and can be snapped in and out of a base that's installed in a vehicle.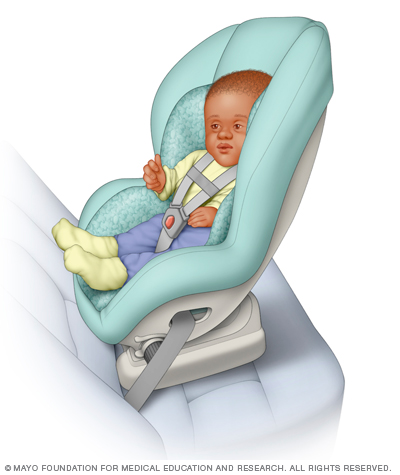 Convertible car seat
Convertible car seats can be used rear- or forward-facing and typically have higher rear-facing height and weight limits than do infant-only car seats.
4. Reclining your child at the incorrect angle
In the rear-facing position, recline the car seat according to the manufacturer's instructions so that your child's head doesn't flop forward. Babies must ride semireclined to keep their airways open. Many seats include angle indicators or adjusters to guide you. Keep in mind that as your child grows, you might need to adjust the angle. Check the manufacturer's instructions for details.
5. Moving to a forward-facing car seat too soon
Resist the urge to place your child's car seat in the forward-facing position just so that you can see him or her in your rearview mirror. Riding rear facing is now recommended for as long as possible, until a child reaches highest weight or height allowed by the car seat manufacturer. You can start with a convertible seat, which can be used rear facing and, later, forward facing and typically has a higher rear-facing weight and height limit than does an infant-only seat, or switch from an infant-only seat to a convertible car seat as your baby grows.
When your child reaches the weight or height limit of the convertible seat, you can face the seat forward. When you make the switch:
Install the car seat in the back seat according to the manufacturer's instructions, using either the seat belt or Lower Anchors and Tethers for Children (LATCH) system.
Use the tether strap — a strap that hooks to the top of the seat and attaches to an anchor in the vehicle — for extra stability.
Adjust the harness straps so that they're at or above your child's shoulders and fit snugly.
6. Not removing your child's heavy outerwear
Bulky outerwear and blankets can prevent harness straps from snugly securing your child. Buckle the harness, and then place a coat or blanket over the harness to keep your baby warm.
7. Moving to a booster seat too soon
Older children need booster seats to help an adult safety belt fit correctly. You can switch from a car seat to a booster seat when your child has topped the highest weight — typically 40 to 80 pounds (18 to 36 kilograms) — or height allowed by the car seat manufacturer. Remember, however, that your child is safest remaining in a car seat with a harness for as long as possible.
8. Incorrectly using a booster seat
Booster seats must be used with a lap and shoulder belt — never a lap-only belt. Make sure the lap belt lies low across your child's hips and pelvis and that the shoulder belt crosses the middle of your child's chest and shoulder.
9. Transitioning to a safety belt too soon
Most kids can safely use an adult seat belt sometime between ages 8 and 12. Here's how you'll know that your child is ready:
Your child reaches a height of 4 feet 9 inches (nearly 1.5 meters).
Your child sits against the back of the seat with his or her knees bent comfortably at the edge of the seat — and can remain that way for the entire trip.
The lap belt lies low across your child's hips and pelvis, and the shoulder belt rests on the middle of your child's chest and shoulder — not on the neck or face.
Remember, the back seat is the safest place for children younger than age 13.
If you have questions about child passenger safety laws or need help installing a car seat, participate in a local car seat clinic or inspection event. You can also check with the National Highway Traffic Safety Administration for help finding a car seat inspection station.
© 1998-2018 Mayo Foundation for Medical Education and Research (MFMER). All rights reserved. Terms of use