Back surgery: When is it a good idea?
Medically reviewed by Drugs.com. Last updated on Jul 14, 2020.
Back surgery can help relieve some causes of back pain, but it's rarely necessary. Most back pain resolves on its own within three months.
Low back pain is one of the most common ailments seen by family doctors. Back problems typically respond to nonsurgical treatments — such as anti-inflammatory medications, heat and physical therapy.
Do you need back surgery?
Back surgery might be an option if conservative treatments haven't worked and your pain is persistent and disabling. Back surgery often more predictably relieves associated pain or numbness that goes down one or both arms or legs.
These symptoms often are caused by compressed nerves in your spine. Nerves may become compressed for a variety of reasons, including:
Disk problems. Bulging or ruptured (herniated) disks — the rubbery cushions separating the bones of your spine — can sometimes press too tightly against a spinal nerve and affect its function.
Overgrowth of bone. Osteoarthritis can result in bone spurs on your spine. This excess bone most commonly affects the hinge joints on the back part of the spinal column and can narrow the amount of space available for nerves to pass through openings in your spine.
It can be very difficult to pinpoint the exact cause of your back pain, even if your X-rays show that you have disk problems or bone spurs. X-rays taken for other reasons often reveal bulging or herniated disks that cause no symptoms and need no treatment.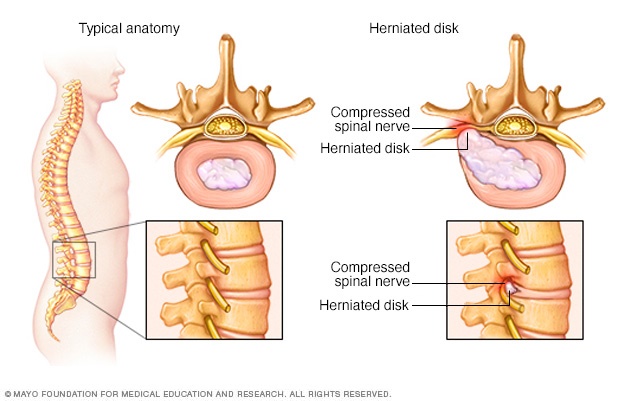 Herniated disk
The rubbery disks that lie between the vertebrae in your spine consist of a soft center (nucleus) surrounded by a tougher exterior (annulus). A herniated disk occurs when a portion of the nucleus pushes through a crack in the annulus. Symptoms may occur if the herniation compresses a nerve.
Spinal stenosis
Spinal stenosis occurs when the space within the spinal canal or around the nerve roots becomes narrowed.
Types of back surgery
Different types of back surgery include:
Diskectomy. This involves removal of the herniated portion of a disk to relieve irritation and inflammation of a nerve. Diskectomy typically involves full or partial removal of the back portion of a vertebra (lamina) to access the ruptured disk.
Laminectomy. This procedure involves the removal of the bone overlying the spinal canal. It enlarges the spinal canal and is performed to relieve nerve pressure caused by spinal stenosis.
Fusion. Spinal fusion permanently connects two or more bones in your spine. It can relieve pain by adding stability to a spinal fracture. It is occasionally used to eliminate painful motion between vertebrae that can result from a degenerated or injured disk.
Artificial disks. Implanted artificial disks are a treatment alternative to spinal fusion for painful movement between two vertebrae due to a degenerated or injured disk. But these relatively new devices aren't an option for most people.
Consider all options
Before you agree to back surgery, consider getting a second opinion from a qualified spine specialist. Spine surgeons may hold different opinions about when to operate, what type of surgery to perform and whether — for some spine conditions — surgery is warranted at all. Back and leg pain can be a complex issue that may require a team of health professionals to diagnose and treat.
© 1998-2019 Mayo Foundation for Medical Education and Research (MFMER). All rights reserved. Terms of use.