Join the 'Waterhouse-Friderichsen Syndrome' group to help and get support from people like you.
Waterhouse-Friderichsen Syndrome News
Posted 25 May 2011 by Drugs.com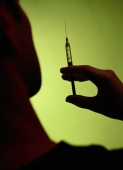 WEDNESDAY, May 25 – The incidence of bacterial meningitis dropped by 31 percent between 1998 and 2007, new government research shows. The drop was led by reductions in infections by two powerful germs – Neisseria meningitidis and Streptococcus pneumoniae – that are covered by available immunizations. With fewer infections among young children, the burden of the disease is now mainly borne by ...
Further Information
Related Condition Support Groups