Join the 'Vimpat' group to help and get support from people like you.
Vimpat News
Posted 25 Sep 2013 by Drugs.com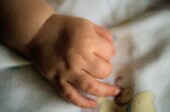 WEDNESDAY, Sept. 25 – Young children exposed to epilepsy drugs in the womb are at increased risk of having impaired fine motor skills, according to a new study. Exposure to the drugs in breast milk, however, does not appear to pose a threat. Researchers looked at data collected from Norwegian mothers about their children's language, behavior, and motor and social skills at the ages of 6 months, ...
Further Information
Related Condition Support Groups
Vimpat Patient Information at Drugs.com