Join the 'Uribel' group to help and get support from people like you.
Uribel News
Posted 28 Jun 2016 by Drugs.com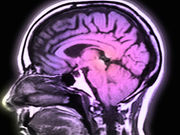 TUESDAY, June 28, 2016 – A long-used drug called methylene blue may rev up activity in brain regions involved in short-term memory and attention, a small study suggests. Methylene blue has been used in medicine for more than a century, said Timothy Duong, the senior researcher on the study and a professor at the University of Texas Health Science Center at San Antonio. These days, he said, it's ...
Further Information
Related Condition Support Groups
Uribel Patient Information at Drugs.com