Join the 'Triamterene' group to help and get support from people like you.
Triamterene News
Posted 3 Jul 2016 by Drugs.com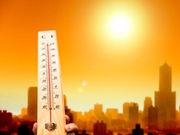 SATURDAY, July 2, 2016 – Heat waves are more than uncomfortable, they can be deadly. That's especially true in large cities. And, seniors, children and people with chronic health problems are at higher risk for heat-related illness and death, according to Dr. Robert Glatter. He's an emergency physician at Lenox Hill Hospital in New York City. "Those who have high blood pressure, heart disease, ...
Further Information
Related Condition Support Groups
Related Drug Support Groups
Triamterene Patient Information at Drugs.com