Join the 'Tracrium' group to help and get support from people like you.
Tracrium News
Posted 19 Jan 2017 by Drugs.com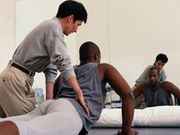 WEDNESDAY, Jan. 18, 2017 – Back pain is common but not inevitable, an orthopedist says. Roughly eight out of 10 people will suffer significant back pain at least once in their lifetime – but there are ways to reduce the risk, said Dr. Mark Knaub of Penn State Hershey Medical Center. Muscle, ligament or tendon strains (soft tissue injuries) are the most common causes of back pain. These injuries ...
Posted 24 Feb 2015 by Drugs.com
ISSUE: Sagent Pharmaceuticals, Inc. announced the voluntary nationwide recall of two lots of Atracurium Besylate Injection, USP, 50mg/5mL single-dose vials (NDC 25021-659-05) and four lots of Atracurium Besylate Injection, USP, 100mg/10mL multi-dose vials (NDC 25021-672-10) manufactured by Emcure Pharmaceuticals Ltd. and distributed by Sagent. Sagent has initiated this voluntary recall of ...
Further Information
Related Condition Support Groups
Tracrium Patient Information at Drugs.com