Join the 'Tinidazole' group to help and get support from people like you.
Tinidazole News
Posted 18 Nov 2010 by Drugs.com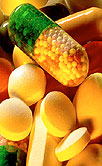 THURSDAY, Nov. 18 – Knowing when to take antibiotics – and when not to – can help fight the rise of deadly "superbugs," say experts at the U.S. Centers for Disease Control and Prevention. About half of antibiotics prescribed are unnecessary or inappropriate, the agency says, and overuse has helped create bacteria that don't respond, or respond less effectively, to the drugs used to fight them. ...
Further Information
Related Condition Support Groups
Giardiasis, Trichomoniasis, Amebiasis, Bacterial Vaginitis
Related Drug Support Groups
Tinidazole Patient Information at Drugs.com