Join the 'Thrombotic Thrombocytopenic Purpura' group to help and get support from people like you.
Thrombotic Thrombocytopenic Purpura News
Related terms: TTP
Posted 24 Aug 2015 by Drugs.com
MONDAY, Aug. 24, 2015 – U.S. Food and Drug Administration approval of the drug Promacta (eltrombopag) has been expanded to include children one year and older with a rare blood disorder called chronic immune thrombocytopenic purpura (ITP). ITP is characterized by a low blood platelet count. Promacta is now approved for the disorder among children who have had unsatisfactory results with other ...
Posted 10 Jan 2013 by Drugs.com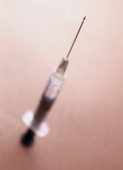 THURSDAY, Jan. 10 – Tennessee health officials report cases of a rare blood-clotting problem among people who injected the painkiller Opana ER (extended release) after crushing pills meant to be taken by mouth. Thrombotic thrombocytopenic purpura (TTP) is a disorder that causes blood clots to form in small blood vessels around the body and is usually seen in about one in 100,000 people. From ...
Further Information
Related Condition Support Groups