Join the 'Tamsulosin' group to help and get support from people like you.
Tamsulosin News
Posted 7 Feb 2017 by Drugs.com
TUESDAY, Feb. 7, 2017 – A group of family physicians warns that too many Americans struggle with high blood pressure. High blood pressure is a major risk factor for heart attack and heart failure, said Dr. John Meigs Jr., president of the American Academy of Family Physicians (AAFP). Since February is National Heart Month, now is a good time for people to get their blood pressure under control ...
Posted 29 Jul 2015 by Drugs.com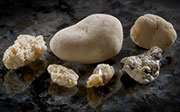 WEDNESDAY, July 29, 2015 – Kidney stones can quickly cause extreme pain, and passing the stones is the immediate goal for patients. Now, a new study finds that the drug tamsulosin (Flomax) can boost the passage of large kidney stones, but not small ones. "Small stones usually pass on their own, so it's not too surprising that drug therapy did not help in this study," said Dr. Warren Bromberg, ...
Further Information
Related Condition Support Groups
Benign Prostatic Hyperplasia (BPH), Urinary Tract Stones, Overactive Bladder
Related Drug Support Groups
Tamsulosin Patient Information at Drugs.com