Join the 'Spondyloarthritis' group to help and get support from people like you.
Spondyloarthritis News
Related terms: Spondylitis
Posted 16 Jul 2017 by Drugs.com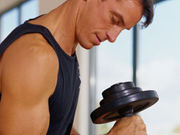 FRIDAY, July 14, 2017 – Back injuries are common, especially among competitive athletes. Nearly 1 in 3 athletes playing professional or varsity-level sports experiences a back injury, a research review finds. "Competitive players stress their lumbar [lower] spine for hundreds of hours a month, thereby predisposing themselves to specific injuries that should be recognized by health care ...
Further Information
Related Condition Support Groups
Psoriatic Arthritis, Ankylosing Spondylitis
Related Drug Support Groups
aspirin, Celebrex, diclofenac, Voltaren, Arthritis Pain, Simponi, Bayer Aspirin