Join the 'Spleen Removal' group to help and get support from people like you.
Spleen Removal News
Related terms: Splenectomy
Posted 18 Jun 2015 by Drugs.com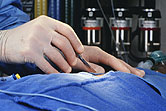 THURSDAY, June 18, 2015 – Surgery patients who suffer complications after discharge from a hospital are more likely to die if they're readmitted to a different hospital than where they had their original operation, a new study finds. University of Utah researchers reviewed information on millions of Medicare patients who underwent one of 12 major surgical procedures between 2001 and 2011. They ...
Further Information
Related Condition Support Groups
Related Drug Support Groups