Join the 'Snakebite' group to help and get support from people like you.
Snakebite News
Posted 30 Oct 2015 by Drugs.com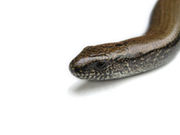 FRIDAY, OCT. 30, 2015 – Snake bites kill thousands of people worldwide each year due to limited availability of antivenom, an expert says. Antivenom maker Sanofi-Pasteur announced earlier this year that it could no longer produce the treatment for snake bites, said David Williams, head of the Australian Venom Research Unit at the University of Melbourne. But the loss of Sanofi's antivenom will ...