Join the 'Secukinumab' group to help and get support from people like you.
Secukinumab News
Posted 17 Jan 2016 by Drugs.com
EAST HANOVER, N.J., Jan. 15, 2016 Novartis announced today that the US Food and Drug Administration (FDA) has approved Cosentyx (secukinumab) for two new indications - the treatment of adult patients with active ankylosing spondylitis (AS) and active psoriatic arthritis (PsA). AS and PsA are both life-long, painful and debilitating inflammatory diseases that affect the joints and/or spine. If ...
Posted 30 Sep 2015 by Drugs.com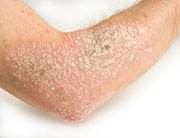 WEDNESDAY, Sept. 30, 2015 – Two experimental drugs show promise in treating psoriasis and a related condition, psoriatic arthritis, new studies report. The drugs, brodalumab and secukinumab (Cosentyx), represent a new approach to treatment, said Michael Siegel, director of research programs at the National Psoriasis Foundation. "These studies show how targeting parts of the immune system can ...
Further Information
Related Condition Support Groups
Ankylosing Spondylitis, Psoriatic Arthritis, Plaque Psoriasis
Related Drug Support Groups
Secukinumab Patient Information at Drugs.com