Join the 'Sargramostim' group to help and get support from people like you.
Sargramostim News
Posted 4 Nov 2014 by Drugs.com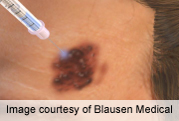 TUESDAY, Nov. 4, 2014 – Patients with advanced melanoma may live longer when treated with a combination of the cancer drug Yervoy and the immune system booster sargramostim, a new study finds. Patients given the two drugs had a median survival of 17.5 months, compared to 12.7 months for those on Yervoy (ipilimumab) alone. At one year, overall survival was nearly 69 percent for those on the ...
Further Information
Related Condition Support Groups
Neutropenia Associated with Chemotherapy, Aplastic Anemia, Bone Marrow Transplantation, Bone Marrow Transplantation, Failure or Engraftment Delay, Bone Marrow Transplantation, Myeloid Reconstruction, Neutropenia Associated with Radiation
Related Drug Support Groups
Sargramostim Patient Information at Drugs.com