Join the 'Rythmol' group to help and get support from people like you.
Rythmol News
Posted 16 Sep 2011 by Drugs.com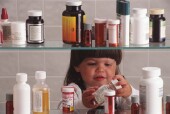 FRIDAY, Sept. 16 – Despite ongoing prevention efforts, a growing number of young children are being accidentally poisoned with medications, according to new research. The study, which was based on data reported to the American Association of Poison Control Centers between 2001 and 2008, found that medication poisoning among children aged 5 and under increased by 22 percent, although the number ...
Posted 25 Mar 2009 by Drugs.com
[Posted 03/25/2009] FDA and Watson Pharmaceuticals notified healthcare professionals and patients of a recall of Propafenone HCl 225 mg tablets, a drug product used to treat cardiac arrhythmias. The drug is being recalled because some tablets may contain slightly higher levels of the active ingredient than specified. Because it has a narrow therapeutic index, some patients who are particularly ...
Further Information
Related Condition Support Groups
Atrial Fibrillation, Ventricular Tachycardia, Atrial Flutter, Wolff-Parkinson-White Syndrome
Rythmol Patient Information at Drugs.com