Join the 'Rickettsial Infection' group to help and get support from people like you.
Rickettsial Infection News
Posted 19 Jun 2015 by Drugs.com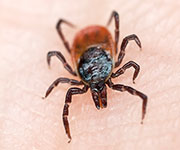 FRIDAY, June 19, 2015 – An epidemic of Rocky Mountain spotted fever among several American Indian tribes on two reservations in Arizona has led to more than $13 million in societal costs in nine years, according to a new study. That amount includes treatment, time off work, and loss of lifetime productivity due to early death. The study likely underestimates the actual cost of the epidemic ...
Further Information
Related Drug Support Groups
doxycycline, tetracycline, Doryx, Monodox, chloramphenicol, Doxy 100, Vibramycin, Chloromycetin, Vibra-Tabs, view more... Morgidox, Doxy 200, Emtet-500, Ocudox, Oraxyl, Sumycin 250, Achromycin V, Tetracon, Doxy-Caps, Tetracap, Brodspec, Ala-Tet, Robitet 500, Panmycin, Doxy-D, Chloracol, Sumycin, Doryx MPC