Join the 'Rheumatic Fever' group to help and get support from people like you.
Rheumatic Fever News
Posted 5 Nov 2015 by Drugs.com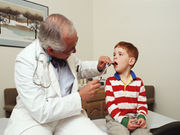 THURSDAY, Nov. 5, 2015 – Scarlet fever, a childhood disease that had been largely relegated to the history books, is reappearing in some parts of the world, researchers warn. Outbreaks have been reported in the United Kingdom and Asia, said scientists at the Australian Infectious Diseases Center at the University of Queensland. "We have not yet had an outbreak in Australia, but over the past ...
Further Information
Related Condition Support Groups
Rheumatic Heart Disease, Rheumatic Fever Prophylaxis, Cardiovascular Conditions and Disorders
Related Drug Support Groups
aspirin, Arthritis Pain, Ecotrin, Bayer Aspirin, Arthritis Pain Formula, Bufferin, Buffered Aspirin, Fasprin, Easprin, view more... Sloprin, Aspergum, Acetylsalicylic Acid, Ascriptin Enteric, Stanback Analgesic, Therapy Bayer, Norwich Aspirin, aluminum hydroxide / aspirin / calcium carbonate / magnesium hydroxide, Magnaprin, Zero-Order Release, YSP Aspirin, Aspirin Lite Coat, Aspirin Buffered, Aspir-Mox, Aspir-Mox IB, Aspirtab, Bufferin Extra Strength, Genprin, Entaprin, Bayer Plus, ZORprin, Aspiritab, Medi-Seltzer, Buffasal, Halfprin, Empirin, Buffex, Tri-Buffered Aspirin, Ecotrin Maximum Strength, Entercote, Extra Strength Bayer, Genacote, Gennin-FC, Litecoat Aspirin, Minitabs, Ecpirin