Join the 'Rheomacrodex' group to help and get support from people like you.
Rheomacrodex News
Posted 30 Apr 2015 by Drugs.com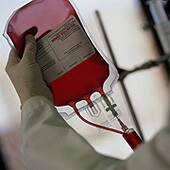 THURSDAY, April 30, 2015 – Children undergoing heart surgery do better when they get fresh whole blood from single donors instead of "component blood" from multiple donors, new research suggests. But fresh whole blood isn't typically available for pediatric heart surgery patients, said study leader Dr. David Jobes, of the Children's Hospital of Philadelphia and Perelman School of Medicine at the ...
Further Information
Related Condition Support Groups
Rheomacrodex Patient Information at Drugs.com