Join the 'Revascularization Procedures' group to help and get support from people like you.
Revascularization Procedures News
Posted 31 Aug 2016 by Drugs.com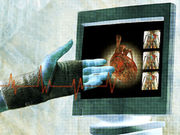 WEDNESDAY, Aug. 31, 2016 – The largest trial ever conducted on stents – tiny tubes that help keep heart arteries open – suggests that pricey drug-coated (or eluting) versions may perform no better for patients over the long-term, in terms of patient survival, compared to cheaper, "bare metal" versions. "The evidence in favor of contemporary drug-eluting stents over bare-metal stents may not be ...
Posted 5 Jul 2016 by Drugs.com
TUESDAY, July 5, 2016 – The first coronary stent to be gradually absorbed by the body has been approved by the U.S. Food and Drug Administration. The Absorb GT1 Bioresorbable Vascular Scaffold System (BVS) is absorbed within about three years, the agency said Tuesday in a news release. The stent, a hollow mesh tube designed to prop open a formerly clogged artery, also releases the drug ...
Further Information
Related Condition Support Groups