Join the 'Renal Vein Thrombosis' group to help and get support from people like you.
Renal Vein Thrombosis News
Posted 6 Aug 2015 by Drugs.com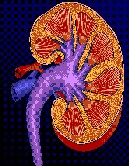 THURSDAY, Aug. 6, 2015 – Kidney problems can increase the risk of brain disorders, a new study finds. The findings suggest that protecting kidney health may also benefit the brain, the researchers said. They studied data from more than 2,600 people in the Netherlands, and found that poor kidney function was strongly associated with decreased blood flow to the brain. They also saw an increased ...
Further Information
Related Condition Support Groups