Join the 'Rat-bite Fever' group to help and get support from people like you.
Rat-bite Fever News
Posted 26 May 2015 by Drugs.com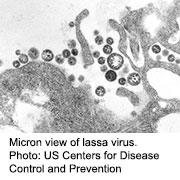 TUESDAY, May 26, 2015 – A man who returned to the United States after traveling to Liberia in West Africa has died of Lassa fever, federal health officials reported. Lassa fever is a viral disease that's common in West Africa but rarely seen in the United States. This is only the sixth known case of Lassa fever in a traveler returning to the United States since 1969, according to the U.S. ...
Further Information
Related Drug Support Groups
Penicillin VK, penicillin v potassium, procaine penicillin, penicillin g sodium, penicillin g potassium, Wycillin, Pfizerpen