Join the 'Radiographic Exam' group to help and get support from people like you.
Radiographic Exam News
Posted 16 May 2017 by Drugs.com
-- X-rays provide important insight to doctors trying to diagnose a bone problem. But there are some risks associated with exposure to radiation. However, the risks of avoiding an X-ray are likely to be greater than the small risk of having one. The U.S. Food and Drug Administration suggests these ways to minimize your risk: Always tell your doctor if you are pregnant, or could be pregnant. If ...
Posted 29 Aug 2016 by Drugs.com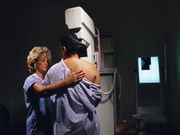 MONDAY, Aug. 29, 2016 – Trained radiologists can identify abnormal mammograms in a half-second, a new study says. The experiments by American and British researchers confirm anecdotes about experienced radiologists' ability to quickly determine when a breast X-ray is suspicious. While radiologists would never spend only a half-second to assess a real mammogram, these results suggest there are ...
Further Information
Related Condition Support Groups
Related Drug Support Groups