Join the 'Pyoderma Gangrenosum' group to help and get support from people like you.
Pyoderma Gangrenosum News
Posted 9 Mar 2017 by Drugs.com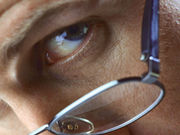 WEDNESDAY, March 8, 2017 – Could a routine eye exam some day point to trouble with circulation in the legs? New research suggests it might be possible. Researchers at Johns Hopkins University in Baltimore said changes in the eye's retina may help spot people at risk for a narrowing of the large blood vessels in the legs – a condition called peripheral artery disease (PAD). "PAD is estimated to ...
Posted 18 Nov 2016 by Drugs.com
FRIDAY, Nov. 18, 2016 – Poor and black patients with narrowing of the blood vessels have a higher risk of amputation than other patients, a new study finds. Peripheral artery disease (PAD), as this blood-vessel narrowing is called, develops when fat, cholesterol and other substances accumulate in blood vessels away from the heart and restrict blood flow. It typically occurs in the legs. Besides ...
Further Information
Related Condition Support Groups