Join the 'Pseudogout' group to help and get support from people like you.
Pseudogout News
Posted 24 Jan 2012 by Drugs.com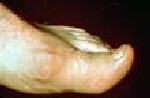 TUESDAY, Jan. 24 – If you have gout, drinking enriched skim milk may help reduce the frequency of painful flare-ups, new research suggests. The new study included 120 patients who had experienced at least two flare-ups in the previous four months. They were divided into three treatment groups that consumed either lactose powder, skim milk powder or skim milk powder enriched with ...
Further Information
Related Condition Support Groups