Join the 'Pseudobulbar Affect' group to help and get support from people like you.
Pseudobulbar Affect News
Related terms: PBA
Posted 22 Sep 2015 by Drugs.com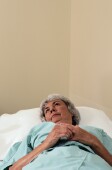 TUESDAY, Sept. 22, 2015 – A drug that combines a cough suppressant with a heart medication might offer a safer option for calming the agitation that commonly affects people with Alzheimer's disease, an early clinical trial suggests. The study, of 220 Alzheimer's patients, found that the drug – called Nuedexta – generally eased agitation symptoms over 10 weeks. And it did not worsen patients' ...
Further Information
Related Condition Support Groups
Related Drug Support Groups