Join the 'Primary Hyperparathyroidism' group to help and get support from people like you.
Primary Hyperparathyroidism News
Posted 19 Oct 2012 by Drugs.com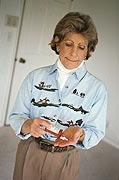 FRIDAY, Oct. 19 – Women who do not get enough calcium in their diet are at greater risk for developing a hormone condition caused by overactive parathyroid glands that leads to weak bones and fractures, a new study found. Increasing calcium intake could reduce women's risk for the condition, known as primary hyperparathyroidism (PHPT), Dr. Julie Paik and colleagues at Brigham and Women's ...
Further Information
Related Condition Support Groups
Related Drug Support Groups