Join the 'Povidone Iodine' group to help and get support from people like you.
Povidone Iodine News
Related terms: Povidone Iodine Topical
Posted 3 Oct 2011 by Drugs.com
Including products under brand names Cardinal Health, Medical Specialties, VHA, Triad, Triad Plus, North Safety, Total Resources, Atwater Carey, Lee Medical International [UPDATED 10/03/2011] Additional Lee Medical International Inc., Custom Dialysis Trays/Kits recalled. See the Recall Notice for a listing of affected brand names and lot numbers. [UPDATED 09/16/2011] Lee Medical International I ...
Posted 12 Sep 2011 by Drugs.com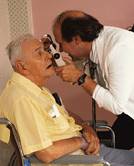 MONDAY, Sept. 12 – Repeated use of antibiotics among patients who receive eye injections for such ophthalmic conditions as age-related macular degeneration can lead to the emergence of drug-resistant germs, according to a new study. More than eight million people in the United States are affected by age-related macular degeneration, and its treatment involves monthly injections that are ...
Further Information
Povidone Iodine Patient Information at Drugs.com