Join the 'Postoperative Infection' group to help and get support from people like you.
Postoperative Infection News
Related terms: Infection, postoperative
Posted 25 Aug 2015 by Drugs.com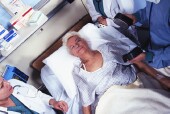 TUESDAY, Aug. 25, 2015 – Seniors are much more likely than younger people to find themselves in the hospital after outpatient surgery, a new study finds. "These seniors were supposed to stay out of the hospital since the procedures were performed in the ambulatory setting, but they were admitted to the hospital within 30 days," corresponding study author Dr. Gildasio De Oliveira Jr., an ...
Further Information
Related Condition Support Groups