Join the 'Post-Polio Syndrome' group to help and get support from people like you.
Post-Polio Syndrome News
Related terms: Post-Polio Sequelae, PPS
Posted 1 Dec 2014 by Drugs.com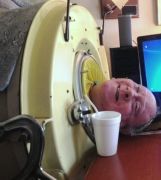 MONDAY, Dec. 1, 2014 – Paul Alexander's most impressive accomplishment is something most people never think about. He taught himself how to breathe. Alexander, 67, is a victim of the worst that polio had to offer children in the late 1940s and early 1950s. At the age of 6, he was completely paralyzed by the disease, his lungs stopped working, and he was literally thrown into an iron lung. ...
Posted 1 Dec 2014 by Drugs.com
Part one of a two-part series MONDAY, Dec. 1, 2014 – Most American parents today can't fathom the horror that summers brought during the first half of the 20th century. Summer meant polio season, and whole communities waited in dread for an outbreak to strike. Ordinary life all but ground to a halt in cities and towns where polio went on its rampage, crippling or killing scores of children. ...
Further Information
Related Condition Support Groups
Related Drug Support Groups