Join the 'Polymyalgia Rheumatica' group to help and get support from people like you.
Polymyalgia Rheumatica News
Related terms: Polymyalgia
Posted 28 Jul 2014 by Drugs.com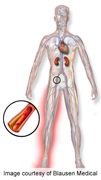 MONDAY, July 28, 2014 – A common inflammatory muscle disorder that causes pain and stiffness in older people may increase the risk for heart attack and stroke, new research suggests. A British study found that patients with polymyalgia rheumatica are more likely to develop vascular disease – conditions that affect the blood vessels. Doctors should carefully manage the vascular risk factors of ...
Posted 31 Jul 2012 by Drugs.com
DEERFIELD, Ill., July 26, 2012 /PRNewswire/ – Horizon Pharma, Inc. announced today that the U.S. Food and Drug Administration (FDA) has approved Rayos (prednisone) delayed-release tablets (1 mg, 2 mg and 5 mg) to treat a broad range of diseases including rheumatoid arthritis (RA), polymyalgia rheumatica (PMR), psoriatic arthritis (PsA), ankylosing spondylitis (AS), asthma and chronic obstructive ...
Further Information
Related Condition Support Groups
Related Drug Support Groups