Join the 'Pleuropulmonary Infection' group to help and get support from people like you.
Pleuropulmonary Infection News
Posted 10 Aug 2011 by Drugs.com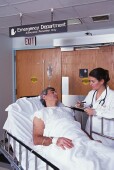 WEDNESDAY, Aug. 10 – Combination therapy with two drugs offers an effective new way to treat people with a serious respiratory condition called pleural infection, English researchers say. Pleural infection refers to an accumulation of infected fluid in the space between the ribs and lungs. The condition, usually the result of lung infections such as pneumonia, can cause breathing problems as the ...
Further Information
Related Condition Support Groups